THE hunt for a man who went missing in Gata de Gorgos on December 10 has been extended to other areas after a search of most of the municipality failed to turn up any sign of what had happened to Miguel Angel Gilabert Garcia.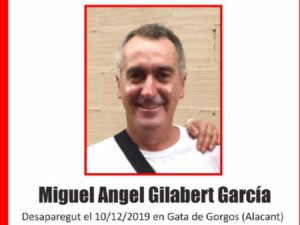 The family of the 51-year has not seen him since he set off first thing on Tuesday morning to find mushrooms and a mobile phone he had lost in the mountainous Fuente de la Mata area of the municipality.
Volunteers joined Guardia Civil, Local Police, firefighters, Civil Protection and the 112 emergency service, supported by dogs, drones and helicopters, in the efforts to locate Miguel Angel.
He is described as 1.82 metres tall and weighing 90 kilos. He was wearing jeans and dark jacket with yellow stripes and brown boots. He also had on a brown gunbelt.