This week Celebrity & Fellow Master Chef Steven Saunders, proprietor of The Little Geranium in La Cala, cooks Lorraine Kelly's official 60th birthday meal at her beautiful home in Mijas. Steven also gives us more Top Tips for making Christmas dinner at home less stressful!
I MET Lorraine Kelly a few years ago on a show in London and then after we moved to La Cala de Mijas a few years ago Lorraine called in for lunch. I was delighted as I have always loved her and so have my family.
That is a bit unusual because my family rarely like anyone in the media, often including me! The fact is though, Lorraine is the UK sweetheart, a national treasure and most of us love her because she is natural and real and represents normal people.
It's occasionally fun to have a laugh with people like Gemma Collins or any of the reality TV stars, but Lorraine is the quintessential TV star, famous for doing what she does best… presenting her morning show, not just famous for being famous. That's no easy task!
When I was on Good Morning with Anne and Nick (a million years ago) I used to get up at 4am to be on set by 7am, run through the auto cue script, check my ingredients, walk through the piece and then eventually go live around 9.30am. By 11am I was mentally exhausted!
TV drains you, even when it's not live it's let's do it another way or we need a few cut aways or another PTC (piece to camera) and off you go again over and over the same lines with the same smile and a twang of different emphasis on a few of the words to make it feel different, until eventually your face feels numb hoping they say… CUT.. It's a wrap!
Phew!! Exhausting and I couldn't do it every day for 36 years like Lorraine has!
Lorraine had more 60th birthday celebrations in November than the Queen has birthdays, but the real official one was on November 30, her actual birthday. So I was excited to be asked to cook for her on her special day at their lovely Spanish villa in Mijas Pueblo.
By her side, as always is her husband Steve Smith her brick, her love, her bestie and a real down to earth lovable Scotsman, but apparently not such a good golfer! (Lol Steve).
Close friends like Mark Heyes the fashion consultant, Dan Wootton (Broadcaster and Editor of The Sun newspaper) and Dr Hilary Jones (TV Doctor) all arrived and we kicked off the beautiful day (the sun always shines on the righteous!) with magnums of Cava and a shot of white truffle soup!
Dr Hilary was keen to get his kit off and get in the pool! So was Dan and then Lorraine followed and so we waited for them all before serving mini scallop wellingtons, asparagus tempura miso mayo, famous crispy duck salad, home smoked salmon bouillabaisse , wild sea bass and caviar, crispy pork belly, and many more special dishes that I am featuring on my Christmas menus this year. We are back open this week after refurbishing the entire Geranium restaurant and we are delighted with the results.
Come and see us lunch or dinner and try out our new dishes that have now been approved by the gorgeous Lorraine and her friends. We ended her birthday lunch with birthday cake with a picture of her and Angus (their dog) on top and the Dundee United football colours (their team!). A great day and some fab food was consumed along with a wee bit of gin!
Continuing on from my Christmas tips last week here are three more tips to save you time and get you cooking!!
Steven Saunders's opinions are his own and are not necessarily representative of those of the publishers, advertisers or sponsors.
---
More Christmas Cooking Tips (continued from last week)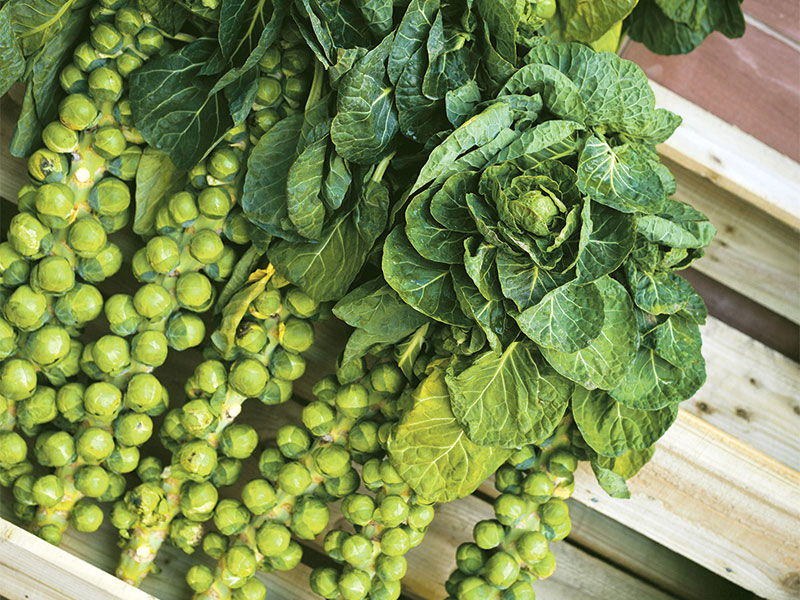 Tip 4
Brussels sprouts with bacon and chestnuts
Save time by using what us chefs call 'blanching and refreshing' – boil the sprouts, drop them in cold water to stop the cooking process, then the next day just reheat them in a wok style pan with chestnuts and bacon. You can pre blanch most other vegetables too. Carrots for example are perfect like this and then just roast them or cook them in butter with herbs and lemon on Xmas day.
Ingredients for the sprouts
2 tbsp. olive oil
6 slices bacon
1 kilo Brussels sprouts (Pre blanched so tender in centre but not too soft)
1 tsp salt
200g fresh or cooked chestnuts
2 tbsp unsalted butter
Method
In a large wok, heat oil over medium-low heat. Cook bacon until crisp, about five minutes and add the chestnuts and cook two or three minutes. Transfer bacon and chestnuts to paper towel-lined plate. Set aside.
Add the pre-blanched Brussels sprouts to the wok and cook, tossing frequently, until lightly browned, (about four/five minutes). Add a little Maldon salt to season.
Now put back the chestnuts and bacon into the wok and add the butter and cook until sprouts are crisp on the outside, about two minutes.
Tip 5
Home-made cranberry sauce
Make this ahead and freeze to save time on the day, it's so much better to make your own for the true flavours and so easy to do!
1 heaped tablespoon sugar
Water
fresh orange juice and zest
glug of brandy
fresh cranberries (frozen may be used)
1 jar of cranberry sauce
1 small teaspoon ground cinnamon
Method
Melt redcurrant jelly in a thick bottomed sauce pan and add orange juice and zest and a little sugar.
Now add the cranberries and some cinnamon and top with boiling water, listen to them pop and then reduce heat to a simmer and cook stirring occasionally for about 10 minutes.
Add some brandy and remove from heat and allow to cool completely. Cover and refrigerate until ready to serve or freeze.
Tip 6
Make Brandy Butter
The difference between an OK and a stupendous Christmas pudding can be made in minutes.
Beat about 250g of softened unsalted butter and add approx 20g icing sugar and as much brandy as you like!
Roll it into logs in cling film and freeze it and then defrost on Christmas Eve.
Cut it into rounds and serve four rounds on the top of a hot Christmas pudding so that it melts into it… delicious!
Follow Steven on Instagram … saunderschef – Email any questions … [email protected]
The Little Geranium, Winner of Best Contemporary International Restaurant 2019-Costa Del Sol – www.thelittlegeranium.com