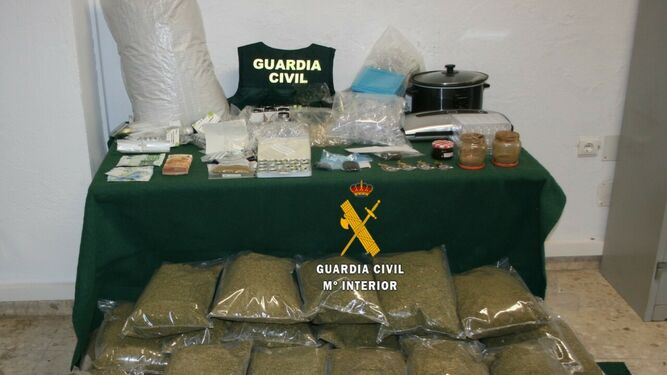 THE Guardia Civil have arrested 6 people in Costa del Sol's Malaga, Spain, for the cultivation and trafficking of drugs.
An investigation was launched as part of the 'Calandria' operation earlier this month when evidence pointed towards a group of individuals cultivating large quantities of marijuana at farms in Alhaurín de la Torre and Alora in the Guadalhorce Valley.
Through investigative police work, officers discovered that the group were growing a considerable amount of the drug inside two large greenhouses, resulting in the cultivation of thousands of plants. Police report that they were able to make a significant amount of money from their illegal activities, as controlled the entire production line of the drug.
Once enough evidence was collected, agents from the Guardia Civil descended to the site, arresting 6 people today (December 13). Upon a search of the land and property on the site, more than 100 kilos of marijuana was found in addition to equipment used for the cultivation, processing, preparation and distribution of the drug and large amounts of cash.
All indivduals have been remanded in custody where they are expected to appear in court in due course.