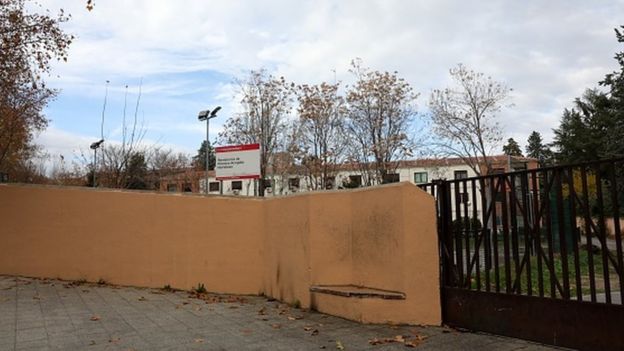 Around 1000 demonstrators gathered in a Madrid suburb this weekend in protest at a grenade attack on a migrant children's centre last week.
The grenade was found on the patio of the children's centre in Hortaleza in the Spanish capital before being safely diffused by a bomb squad.
Police believe the training grenade containing explosives was thrown over the wall of the reception centre which houses dozens of unaccompanied foreign minors, many of them immigrants, on December 4.
In protest, residents of Hortaleza and anti-fascist groups gathered outside the centre in support of migrant children on Sunday December 8, shouting: 'Abascal, you are illegal,' referring to Santiago Abascal, the leader of Spain's far-right party Vox, and demanding more resources for the centre and an end to hate and racism speeches.
There were also shouts of 'You are not alone' and 'These children are our brothers, and if you touch them, we go to the street.'
Demonstrators held posters and banners with phrases like 'Better attention, less problem' while teenagers carried cardboard messages demanding peace and living together.
The attack was condemned by politicians and human rights campaigners, with many blaming anti-immigrant rhetoric. Adriana Lastra, spokeswoman for ruling Socialist party PSOE, tweeted: "This is what hate speech brings. It needs to be fought online, on the streets and in our institutions."
Before Spain's general election in November, far-right politicians and groups criticised the centre, linking young migrants to a rise in crime.
And in a televised election debate last month, Mr Abascal blamed youth at the centre in Hortalzea, where he lives, for the rise in crime.
He said: "I live in a working-class Madrid neighbourhood – Hortaleza. And every time I'm on the street – and there's a centre for unaccompanied foreign minors there – I run into women who come and tell me that the police tell them not to wear their jewellery on the street; and mothers who are worried that their daughters are coming home late and are scared of being assaulted."
The centre has seen repeated attacks, such as in October when around thirty youths tried to storm in.
Vox, which did not enjoy much support previously, saw an increase in its popularity in 2018 following a rise in the numbers of migrants arriving in Spain from Africa, which help it campaigned for tougher controls on immigration.
And in November's election, the party more than doubled its seats to become the country's third most-powerful party. PSOE won the most seats, but fell short of a majority.
There are reportedly around 12,300 unaccompanied foreign minors in Spain.
By Shirin Aguiar