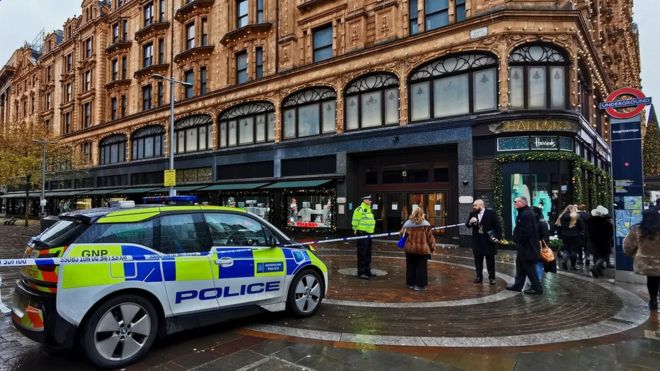 AS ANOTHER night of bloodshed rages on in the capital, a man has been found stabbed to death in Knightsbridge in London, England, yards from the designer department store Harrods.
As reported by the Metropolitan Police, the emergency services rushed to Brompton Road shortly before 1am (December 6), after reports of a man lying unconscious on the street suffering from multiple knife wounds.
Officers and paramedics from the London Ambulance found two men, believed to be in their early 20s, seriously injured. Paramedics battled to save one of the victims life, however, despite their best efforts he was pronounced dead at the scene. Police said the other man was taken to hospital where he remains in a serious condition.
A police cordon remains outside Harrods as forensics scour the area for evidence with police reporting that so far, no arrests have been made.
This is the third fatal stabbing in less than 24-hours in London as the city's violent surge of knife crime continues to take lives. Just hours later, a man was knifed to death on Bronze Street in Greenwich at 3am, succumbing to his injuries at hospital. In addition, on Thursday, December 5, another man in his 20s was also fatally stabbed in Clarence Mews in Lower Clapton in broad daylight where a man has been arrested on suspicion of murder.
As Euro Weekly News understands, in 2019, there have been more than 100 violent killings in London. According to Statista, the Metropolitan Police have recorded 163 murders in 2017/18, an increase of 50% from the previous year. Last year was one of the bloodiest in over a decade, with 263 of the 736 homicides recorded in England and Wales involving a knife or sharp instrument.