This week Celebrity & Fellow Master Chef Steven Saunders, proprietor of The Little Geranium in La Cala gives us his professional Top Tips for making Christmas Day dinner at home more special and less stressful!
WITH a little pre-planning, the chaos that Christmas can cause in your kitchen, could be the ghost of Christmas past!
There are plenty of elements of your Christmas dinner that can be prepared days, if not weeks, ahead.
We all know that feeling… It's Christmas Day, but rather than enjoying a glass of cava or catching up with your family, you're peeling carrots and parsnips, hoping you'll have time to get the stuffing out of your hair before the guests arrive.
By the time you sit down to Christmas dinner, you'll be so exhausted you'll barely have the strength to pull a cracker!
So the trick is to think ahead and prepare some things in advance, take the weight out of trying to do it all on the day so that you can enjoy your friends and family.
Also saving precious oven space on the day will make it a far more pleasant experience! Although I cook all year long I am totally enthusiastic about cooking Christmas Day lunch, such a special day deserves the love and when you cook with love, your food will shine.
So relax, enjoy cooking your special meal and show off your passion.
But help yourself by getting a few things planned or prepared in advance.
In no particular order here are some of my top tips with more essential tips following up over the next few weeks so watch this space!
Steven Saunders's opinions are his own and are not necessarily representative of those of the publishers, advertisers or sponsors.
---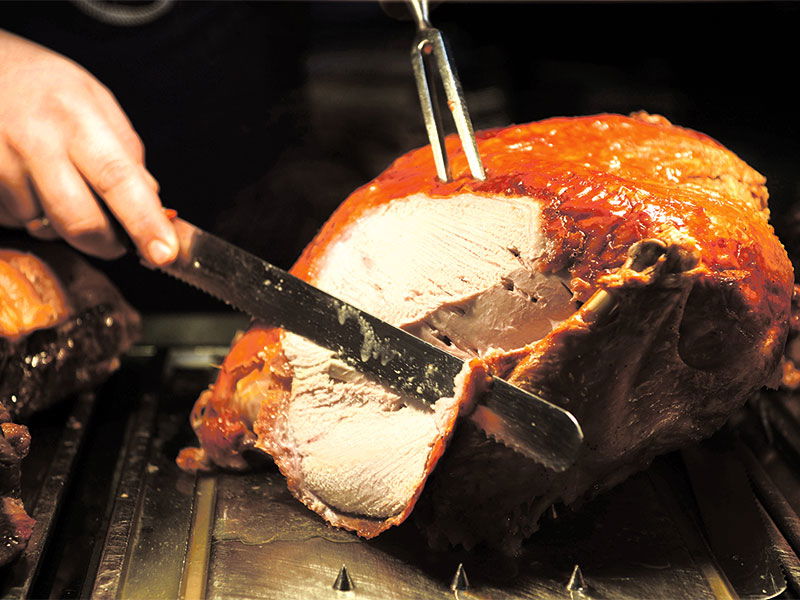 Turkey
Tip 1
How to cook your Turkey
Hailing from Mexico, turkeys were brought to the UK in the 16th century. Henry VIII was credited with being the first British king to enjoy one at Christmas and from there on the trend became a custom.
Many turkeys are sold oven ready nowadays, but if you are buying fresh you will need to do all the messy jobs like get the butter down the skin of the turkey, trim the turkey and cover it with streaky bacon in advance.
You'll want to get it out of the way on Christmas Eve so that you don't have to do it on Christmas Day. Tips for the perfect turkey as follows:
Choose the best and freshest turkey that you can afford, free range preferably
Prepare the turkey with salted butter under the skin of each of the breasts
Lay 6/8 streaky bacon rashers over the top of the turkey
Season the bird inside but do not cook stuffing inside!
Cook the turkey rapidly for 30 minutes first to seal it on a high heat 200ºC
Then reduce the heat and cook the turkey slowly on a low temperature 150ºC until the juices run clear when you pierce underneath the thighs. (The size of the turkey will dictate the cooking time)
Baste the turkey with the fats that come from the bird but also make a basting liquid of melted butter and thyme and Maldon salt, baste every 20 minutes
Allow the bird to rest when it is cooked for at least 15/20 minutes, then carve at the table in front of your guests.
Tip 2
The Gravy
You can make a delicious Christmas turkey gravy long before the main event. Simply freeze it in a container, and defrost on the day. You can then add the juices from your Christmas turkey to it just before serving.
For the sauce
1 large carrot washed and chopped
2 onions chopped
2 cloves garlic peeled and sliced
1 leek washed and chopped
1 stick celery chopped
3/4 bay leaves
Small bunch of rosemary or sage
8 black pepper corns
Maldon salt
100g butter
8 chicken wings or 4 chicken legs
3 tbsp plain flour
1 litre turkey or chicken stock
Half bottle of white wine
Sweat off the carrots onion, leek and celery and add the chicken wings (or legs) and cook until slightly coloured
Add the flour and stir well in and around the pan
Now pour in the turkey stock and add the herbs and bayleaf and some white wine and bring to the boil. Now skim the sauce and then you need to reduce the heat and allow it to simmer for at least 1-2 hours.
Now pass the sauce through a fine sieve and at this point you can either freeze it or keep it in the fridge for a few days in advance. On Christmas Day you need to reduce the sauce down on a high heat, add some turkey juices from the pan of the cooking bird and add some more white wine. Whisk in the butter, taste, season and serve.
Tip 3
Perfect Roast Potatoes
I like my potatoes cooked freshly, but you can still get ahead by peeling and chopping them the night before. Keep the potatoes in a water-filled container overnight to stop them browning.
Select good quality roasting potatoes like Maris Piper quality. There are some great options here on the Costa.
Peel and cut the potatoes into similar sized pieces
Bring to the boil in water with a little olive oil and salt
Now simmer gently until they are soft in the centre
Remove them carefully with a slotted spoon and allow them to dry on a cake cooling rack. This allows the air to dry them out and that means that when you roast them they will be lovely and crispy on the outside and soft in the centre.
Heat a large roasting tray up in a high oven 200ºC. Now pour a little light olive oil or veg oil into the tray, no need for duck fat!
Line the potatoes up so that they don't touch each other. Roast in a hot oven for 20/30 minutes and carefully turn them over. Cook until even coloured and crispy. Sprinkle with some Maldon salt and serve immediately.
Follow Steven on Instagram … saunderschef – Email any questions … [email protected]
The Little Geranium, Winner of Best Contemporary International Restaurant 2019-Costa Del Sol – www.thelittlegeranium.com