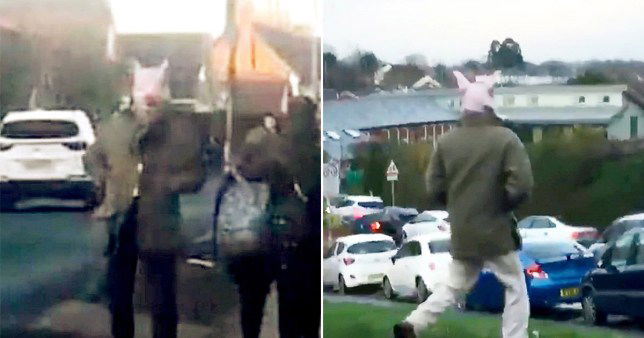 POLICE are hunting a man who has reportedly been stalking terrified children as they walk to school whilst wearing a sinister pig mask in Worcester, England.
Residents have branded the individual 'Pig Man' after he has been seen repeatedly targeting kids at two local schools in the Barnards Green area of Malvern, jumping out in front of them and leaving many pupils too scared to leave their house.
The Chase School Malvern, a 1,500 pupil secondary school, has even written to parents warning them about the man and urging them to report him to police.
As Euro Weekly News understands, parents have now had to drive their kids to and from school in spite of only living a walking distance away. Other residents have also expressed their concerns about the strange man on social media and criticised the police for not acting sooner to protect their children.
David Denny said: 'Pig Man is the talk of all my daughter's friends. It might sound like a harmless prank but it is seriously frightening young girls and it's just wrong, creepy and weird."
Stacey Dooley wrote on Facebook: "Not only is it scaring children it's also scaring parents."
Gemma Phillips added: "Someone needs to stop him! Very creepy behaviour. Police should be dealing with it, not waiting. Ridiculous."
West Mercia Police have confirmed that no arrests have so far been made, but said that officers have stepped up patrols in the area. Sergeant Christopher Day assured residents that "a thorough investigation is underway to identify the individual involved and to establish the motivation behind their actions." He added, "we understand that this will be very alarming to the local community and parents of those at the school."
Anyone with any information in the UK is urged to contact police on 101 quoting reference 422/s31119.