Excitement, joy and big celebrations will be had all over Andalucía during the Christmas holidays. Of course, every village or town has a special way to celebrate. Real life nativity scenes and intricate costumes are just some of the most unique traditions.
La Higuera is a small rural hamlet in Antequera in Málaga, located on the southern edge of El Torcal. On December 25 residents celebrate Jeva Day, a colourful party that revolves around the Jeva Chapel. People from the surrounding areas arrive and together they carry Virgin Maty in procession through the streets. The day sees traditional 'verdiales' songs accompanied by coffee, anise and locally made Christmas sweets.
Throughout the month of December, some Andalucían villages prepare a live nativity scene with hundreds of residents taking part. In Almayate in Vélez Málaga, they get together on December 29 and 30 at 6pm to recreate their own version of the Bethlehem scene. The representation is divided into twelve chapters, with acting and music also in the mix.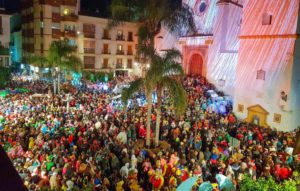 For residents in Coín, the New Year's party is a little different as they eat their twelve grapes in costume. For the last four decades, people converge in the 'Pescao' Square dressed in the most original costumes, in a tradition that arose spontaneously.
For the noisiest Christmas celebration, we head to Algeciras in Cádiz. Every morning on January 5, thousands of children drag cans along the streets as they remind the Three Kings to stop by their homes and leave gifts.