DOCTORS marvel at the miracle British woman who survived hypothermia and over six hours of cardiac arrest, the longest documented heart attack in Spain. The woman was taken to hospital with a body temperature of 18 degrees and was successfully revived after getting lost in the Pyrenees.
Audrey Marsh, a 34-year-old British woman, doesn't remember anything of the fateful weekend that would see her cheat death. Audrey got lost during a hike with her husband in the mountains of Vall de Nuria in the Girona Pyrenees. A big snowstorm surprised the couple and the English teacher was left unconscious and in cardiorespiratory arrest.
Thanks to phone calls and photos the couple had sent to friends, firefighters were able to locate them. At the time of rescue, Audrey had a body temperature of 18 degrees and showed little signs of life. She was transferred to the Vall d'Hebron Hospital in Barcelona by helicopter where she was immediately connected to an ECMO machine. The machine stands in for the heart and lungs, pumping blood through the arteries and heating it, which results in raising the body temperature.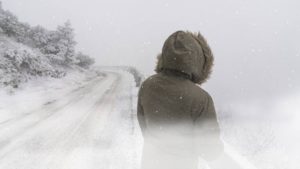 In what seemed like a miracle, six hours after being rescued, Audrey Marsh was revived. The superb coordination between Firefighters, the Emergency Medical Service and the hospital staff managed to save the British woman's life.
Eduardo Argudo, doctor at the Intensive Care department in the Vall d'Hebron Hospital has said Audrey's case is one of a kind and the longest documented cardiac arrest in Spain. After the ordeal, Audrey hasn't suffered any type of neurological disease. She has almost recovered completely and can lead a normal life, with the exception of sensitivity and movement in her hands.
Her husband, Rohan Schoeman explained that they had been spending a weekend with friends. The two of them had left early morning for a walk but the snowstorm became very intense. They used a rock as refuge and Rohan contacted their friends. As Audrey lost consciousness, he sent photos of their location, a decision that would ultimately save his wife.
Audrey insists she wasn't aware that her life was in danger. She spent 11 days in hospital and assures that at first, she felt very confused and wasn't sure of what had happened. The couple have highly praised the medical attention they received from everyone in the Barcelona hospital and say that their care was fantastic.
In spite of everything she went through, Audrey wants to return to the mountain within the next year. She muses that they were reckless and should have prepared for the unexpected.