This week Celebrity & Fellow Master Chef Steven Saunders, proprietor of The Little Geranium in La Cala makes a stunning soup ideal for the festive Christmas season!
I RECENTLY visited my dad in the UK who lives alone after my mother passed away a few years ago. I was talking to him about food (surprise, surprise!) and soups came up.
I have never made a soup he said. What!?! … Dad is 84 in January and has never made a soup? That's probably because my mum used to do the cooking.
It was great seeing my dad so interested in cooking and he kept asking me questions constantly about how to make things, especially a chunky vegetable soup.
He does cook a bit at home nowadays and recently has got into some of the chefs and their food which before he would never have been interested in. I like that chef from the pub that has a Michelin thing he told me. You mean Tom Kerridge? Yeah that's the one!
I remember years ago when I was on the TV he hardly watched my shows. One year I was on all four channels (there was no Sky back then) and I called to ask if they had seen my new show called Remote Control Chef.
My mother said we have seen it before. I replied you haven't seen this one; it's a totally new show! But they had seen me cook on TV many times. My mother was a great cook but didn't really follow chefs, she did her own thing. In those days my father was more interested in politics or Second World War films than food.
I flew back to my home in Spain a few days later and had a missed call from dad. "Sorry to bother you Steve but can you just run me through that soup again," as if he was making a dish using molecular gastronomy!
I sent him an eight-minute video with step by step instructions on what size to cut the vegetables and how to sweat them off and how to make a stock that it all cooks in.
He called me the following day brimming full of enthusiasm for this simple but tasty soup, which he loved! It actually made me feel quite satisfied being able to help him. So I asked him what he wanted for Christmas and he said "I want to be able to make celeriac and white truffle soup"!
Not a bad idea because it is not complicated and it is so special, I would suggest that you consider it for Christmas Day or for any Christmas entertaining.
Dad has turned into a real foodie these days, he eats out a lot, reads abut food and cooks at home. For my generation that is pretty normal, but I remember all those years ago when I was training and my dad asked if I was gay.
"Gay as in not straight?" I asked. "Yes," he said. "Why?" I asked. "Well any son of mine wanting to cook must be a poof!" he said. Well no I am not gay, but I suppose back then in the 70's not many men were interested in cooking.
For me it was a way of expressing my creative side in the only way that I knew, through food. Even back then I made plates look creative.
I remember my first ever TV show was on ITV for Anglia TV in 1981 and I was teaching people how to present food. I took a tomato and removed the skin making it into a rose. "By putting the rose on your avocado and prawns it makes it look great" I said!
In this day and age that sounds horrendous! Nowadays we would cut the avocado perfectly with an electric slicer and the prawns would hit a sousvide machine in a spicy marinade and there would be an avocado puree and something crisp like a thin dried flat bread or dehydrated vegetable to add textures.
The construction would be like a piece of art on the plate, Picasso style and the flavours would be incredible.
How things have changed!
Steven Saunders's opinions are his own and are not necessarily representative of those of the publishers, advertisers or sponsors.
---
Celeriac and White Truffle Velouté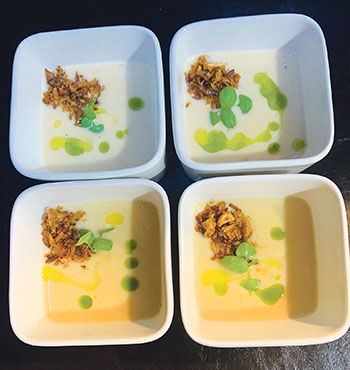 Ingredients
This recipe can also be good for vegans, see notes below with changes
100g butter (replace with 1 tablespoon olive oil if vegan)
1 onion finely chopped
2 cloves garlic finely chopped
1 leek white only, finely chopped
2 sticks celery finely chopped
2 sprigs thyme
700g celeriac peeled and cut into small 2cm cubes
1 litre chicken stock (or vegetable stock if vegan)
200ml double or thick cream (or coconut milk if vegan)
1 teaspoon of white or black truffle pieces
A little white truffle oil
1 tablespoon of crispy onions (cebollas frito)
Maldon salt
White pepper
Method
Heat a large saucepan to a medium heat and add half of the butter and a little olive oil and then add the onion, celery and garlic and fry (sweat) for a couple of minutes to just soften but do not colour.
Add the thyme sprigs then add the chopped celeriac. Cook on low heat for another two minutes stirring well.
Pour in the stock and bring to the boil, then reduce the heat to a simmer and cook for 15/ 20 minutes, or until the celeriac is tender.
Blend the soup to a fine purée and return it to pan.
Add the cream and whisk in the remaining butter.
Season with salt and white pepper.
Add a small teaspoon of truffle pieces to the soup
Pour the hot soup into little bowls
Add a drizzle of white truffle oil and a drizzle of coriander oil (optional)
Finish with a teaspoon of crispy onions on top of each soup (see photo)
Follow Steven on Instagram … saunderschef – Email any questions … steven@thelittlegeranium.com
The Little Geranium, Winner of Best Contemporary International Restaurant 2019-Costa Del Sol – www.thelittlegeranium.com