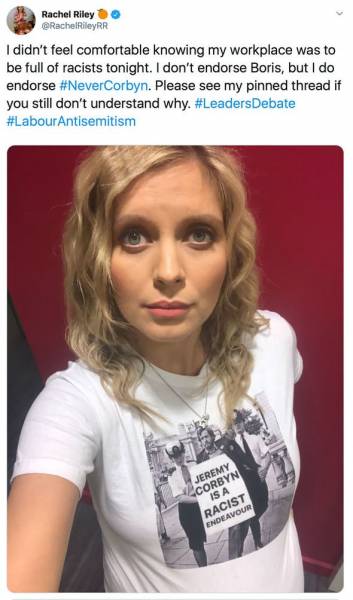 COUNTDOWN presenter Rachel Riley is facing demands for her to be sacked for editing out an anti-apartheid message from a T-shirt which instead labelled Jeremy Corbyn racist.
She doctored the photo of Mr Corbyn so that he is holding a placard saying: 'Jeremy Corbyn is a racist endeavour.' However, the original anti-apartheid placard read: 'Defend the right to protest against apartheid. Join this picket,' and was taken outside the South African embassy in London in 1984, during a protest demanding Nelson Mandela's release from prison.
The photo shows Mr Corbyn being led away by two police officers for defying a ban on demonstrating outside.
Ms Riley, who is 33 and Jewish, shared a photo of herself wearing the T-shirt on her Twitter account yesterday, @RachelRileyRR, to her 656,600 followers.
Her actions have outraged Twitterati, with one person tweeting: "Channel 4 I am disgusted that you have an employee of yours – Rachel Riley – stamping all over the history of protest for Black rights in this country. She skewed an image of Jeremy Corbyn protesting for an end to apartheid and replaced it with her own message that he's racist."
Another tweet said: "Yep @Channel4 definitely needs to sack Rachel Riley #sackRachelRiley #sackRachelRiley #sackRachelRiley."
A third tweet reads: "Disgraceful from Rachel Riley, she should be sacked with immediate effect!! Should be held accountable for her slander."
Riley, who is on maternity leave, wore the t-shirt to the ITV Leaders Debate two days ago. She is a long-time critic of Mr Corbyn and the Labour Party over the allegations of anti-Semitism.
However, she stood her ground today, saying: "Without feeding individual ignorant trolls, this is why I have no qualms using this photo to highlight Corbyn's racism," adding: "People can shout all they like. Most are ignorant of the facts. Which they still won't read when they're laid out in black and white."
At the leaders' debate, the Labour leader said anti-Semitism was "an absolute evil and scourge within our society."
When asked further about the issue by host Julie Etchingham, Mr Corbyn said: "I have taken action in my party, where anyone who has committed any anti-Semitic acts or made any anti-Semitic statements, they are either suspended or expelled from the party."
Ms Riley revealed that Channel 4 had provided her with extra security at the beginning of this year, saying the online abuse towards her had turned into physical threats: "The more I speak, the more abuse I get, and the more abuse I get, the more I speak.
"It's got to the point where I can't look at my Twitter feed any more … it's just a constant stream."
But another tweeter insisted today that what she had done was 'offensive, appalling & deeply repugnant.'