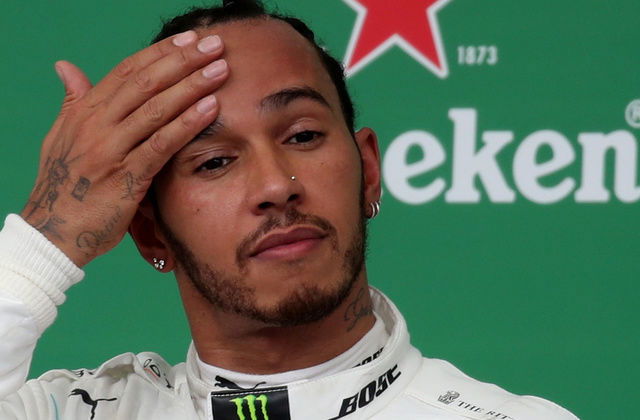 Lewis Hamilton apologised to driver Alex Albon after the world champion accepted full responsibility for their late crash in Brazil.
Hamilton,who was running behind Albon after he stopped for a third time under a late safety car, went for an overtake pass on the London-born Red Bull driver for second place with just two laps left.
But the Mercedes driver crashed into the side of Albon, spinning the Red Bull man around. Hamilton limped to the flag with damage to the front of his car but later received a five-second penalty from the race stewards demoting him from third to seventh position.
A first podium was in sight for Alex Albon, until this 😱




Lewis Hamilton received a post-race penalty, dropping him from third to seventh#BrazilGP 🇧🇷 #F1 pic.twitter.com/s3tkcHVL7C

— Formula 1 (@F1) November 17, 2019
"I apologise to Alex, and I hold my hands up for the accident," said Hamilton, who also collected two penalty points on his drivers' licence.
"I totally accept the blame. It was not my intention and you hardly ever see me collide with anyone. In hindsight I could have waited to make the move, but hindsight is a wonderful thing.
"An opportunity arose and I was in shooting distance. I gave it a shot because in my mind I was trying to catch Max for the win.
"That won't be the last time Alex is in position for a podium. He will have many more great races so, as hard a pill as it is for him to swallow, I hope he can learn from the experience." he went on to say.
Paul Mohamed from the pit lane told The Euro Weekly News after the race "it was a fair decision – no malice involved – Lewis just got it wrong on this occasion as he's admitted himself"