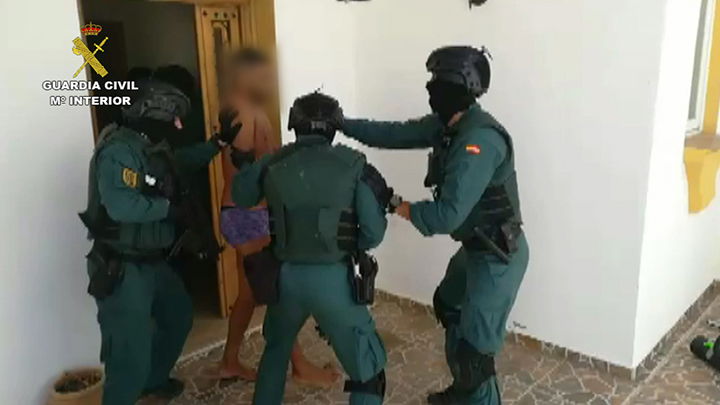 A GANG that used fake vans purporting to be from a well-known courier company to smuggle drugs to France from the Costa del Sol has been broken up.
Seven French nationals have been arrested, 11 vehicles confiscated and 4,500 kilos of hashish seized in Operation Marwone.
Investigations began last May, when the Guardia Civil tried to stop a van displaying the logo of a well-known parcel company at a routine stop on the A-45 motorway.
The driver ignored them and sped off before abandoning the van at an exit to the town of Benamejí, Cordoba, and fleeing on foot. The van was loaded with about 1,800 kilos of hashish.
A police search tracked down the alleged driver of the van, a 34-year-old French citizen, who was arrested on drugs charges.
Police later became aware of a convoy of four vehicles. The first was a reconnaissance car used to look out for police checkpoints while two others provided security, for a van.
Police stopped the convoy, made five arrests and found another 1,650 kilos of hashish.
Subsequently, searches were carried out in four homes related to the organisation in Fuengirola and Mijas (Málaga) and another person was arrested.
The Euro Weekly News has been told that another 1,050 kilos of hashish loaded into a van ready for shipment were found, as well as five vehicles, radio inhibitors and detectors, around €20,000 in cash and a large number of false identity documents, scales, vacuum packers, mobile phones and other communications systems, as well as other material usually related to drug trafficking offences.The operation was been carried out in the provinces of Benamejí, Tudela (Navarra), Gallur (Zaragoza), Mijas and Fuengirola (Málaga) and has been carried out by the Judicial Police Unit of the Command of the Guardia Civil of Córdoba, in collaboration with the Oranisation for the Coordination of Operations against Drug Trafficking (OCON Sur) and the Organised Crime Team of Benalmádena.
Members of the Rapid Action Group (RAG), the Lucena Traffic Detachment and the Judicial Police Team of the Puente Genil Civil Guard also collaborated, acting under the direction of the Lucena Court of First Instance and Instruction No. 2 (Córdoba) and the Anti-Drug Prosecutor's Office of Córdoba.