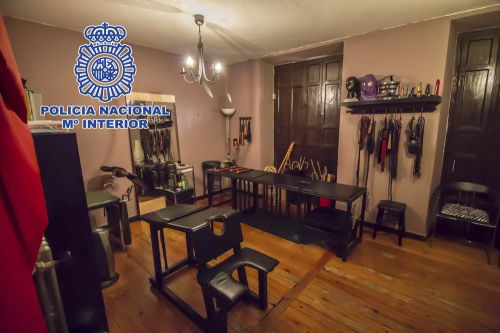 TEN people have been arrested and an organisation dedicated to the sexual exploitation of South American women in a sadomasochistic brothel in Oviedo broken up.
The victims were enticed from their country of origin with the promise of jobs in domestic service but, once in Spain, they were forced into prostitution, say police.
Up to four women lived crammed into a single room, without natural light and in unhealthy conditions
The investigation began when agents in the fight against trafficking in human beings became aware that there could be several women being forced into prostitution in an Oviedo (Asturias) brothel.
Police interviewed one woman who made the claims about being forced into prostitution.
Investigators found that a second brothel linked to the same organisation specialised in sadomasochistic practices.
With the intention of giving the appearance of legality to its activities, the organisation developed a
business network with front men to hide the criminals' true identities.
The women were forced to be available 24 hours a day, seven days a week and lived in overcrowded
rooms.
One of the flats did not even have a kitchen, and only a microwave was available to the seven women living there.
The apartment specialised in sadomasochism and had a fully equipped space for this kind of work.
Police say documents seized showed that the gang was making up to €500,000 a year at its busiest.
This operation falls within the framework of the National Police Plan against Trafficking in Human Beings for the Purpose of Sexual Exploitation, which has been in operation
from 2013. Police have a special help line for victims of sexual exploitation and also for people with any information that might be of interest: 900 10 50 90.