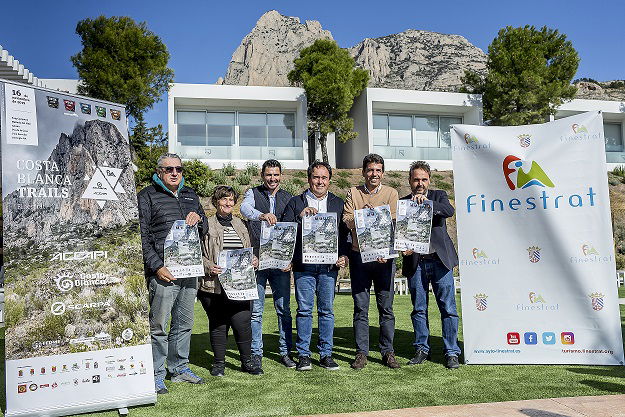 MOUNTAIN bikers from around the world will be heading for Finestrat for the Costa Blanca Trails on November 16.
In all 1,500 bikers will take part in the race, which has the support of the Costa Blanca Tourist Board.
Finestrat Mayor Juan Francisco Perez headed the official presentation of the event, accompanied by provincial government president President Calos Mazon in what was his first visit to the municipality.
Also present were the Costa Blanca Tourist Board director Jose Francisco Mancebo, the race technical director Romualdo Domenech, Finestrat Sports councillor David Alarcon and representatives of other municipalities the race goes through.
The Finestrat Mayor described the race as the "sports event of the year in Finestrat and one of the most important in the Community."
Perez said there are participants from all over Spain and from 12 other European countries, as well as Argentina, Uruguay, Senegal, Morocco, Antigua, Barbuda and Russia.
Between the bikers and those accompanying them, some 4,000 people will be coming to the area, he pointed out, meaning the event represented "the promotion of our locality as a national or international level sport tourism destination.
The Diputacion de Alicante President said the event is an example of sustainable and sport tourism, stressing "the protection of the environment has to be in perfect balance with the promotion of Finestrat and the Costa Blanca."
He also maintained Finestrat is "the Costa Blanca's most complete municipality due to its tourism offer, where visitors have it all."
The race has five categories according to distance and difficulty: the 101 kilometre Gran Trail; the 84 kilometre ultra, which is the Spanish Cup final; the 46 kilometre marathon; the 29 kilometre Trail; and finally the Minitrail, which is 20 kilometres.
The race routes will take the bikers through some of the Marina Baixa's most emblematic mountain areas, including the Puig Campana, Aitana and La Serrella, and nine municipalities: Finestrat, Polop de la Marina, Benimantell, Benifato, Beniarda, Confrides, Sella and Fageca.
On the same day as the race there will be a full programme of entertainment at the Plaça de la Unio Europea from 10am onwards with traditional games and juggling, and starting off at midday there will be the Costa Blanca Trail Kids.