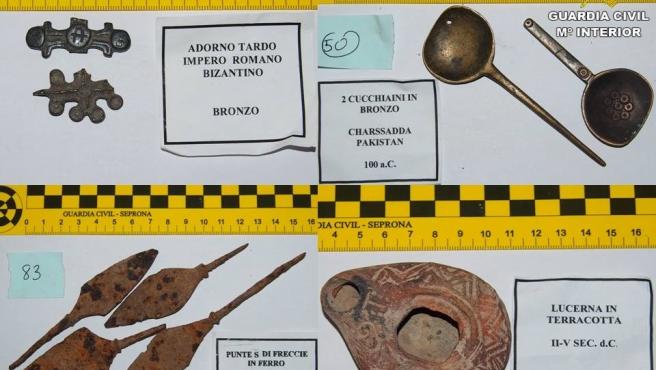 THREE people have been arrested for attempting to sell 'irregular' archaeological pieces on the internet.
They also are alleged to have mixed in fake items with the genuine pieces in lots put up for auction.
Alicante Guardia Civil have charged them with a crime against historical heritage and a crime of fraud.
The investigation began at the end of July 2018, when the Nature Protection team (EPRONA) of the Guardia Civil found out about the internet auction.
Agents located the auction, valid for two days, and being organised by a Denia antiques shop.
In total, 219 objects made from clay, ceramics, glass, bone, silver, iron, bronze and copper were being auctioned, mostly ornamental pieces, coins and jewellery.
Some of them were said to belong to the Roman and Iberian period from various sites including the Roman site of Titulcia in Alcala de Henares (Madrid) and as far away as Israel and the Balkans.
Once the shop was located, EPRONA, together with an expert of Movable Heritage of the Directorate General of Culture and Heritage, visited for an inspection.
Police say the management of the shop could not justify in a clear and detailed way the origin and the legal acquisition of these piece. They said that they were only the intermediaries of an Italian citizen, residing in the province of Valencia, who offered to sell them.
On the basis of an initial evaluation and on-site study by the expert, the 219 pieces were seized as a precautionary measure and the auction was immediately suspended.
The Archaeological Museum of Alicante (MARQ), the University of Alicante, the Provincial Archaeological Museum of Alcalá de Henares (Madrid) and the Regional Ministry of Culture collaborated in the evaluation and study of the pieces.
Information was also requested from the Ministry of Culture of Andalusia and the City of Marbella (Malaga).
Similarly, Interpol was asked to collaborate in finding out whether the pieces could have been stolen in another country, or acquired in an irregular manner, or if they were plundered from archaeological sites.
A study concluded that the 'Titulcia' pieces were authentic and were probably plundered from the site.
The other pieces studied and valued by staff of the University of Alicante and MARQ, belong to different periods from the Neolithic to the Bronze Age, Roman period of the first, fourth and fifth centuries AD.
These authentic pieces had been mixed, for auction, with others that are fake. After more than a year of research, EPRONA completed the operation with the identification of three people allegedly directly involved in the events – a Spaniard and an Irishman (residents of Alicante) and an Italian citizen, resident in Valencia.