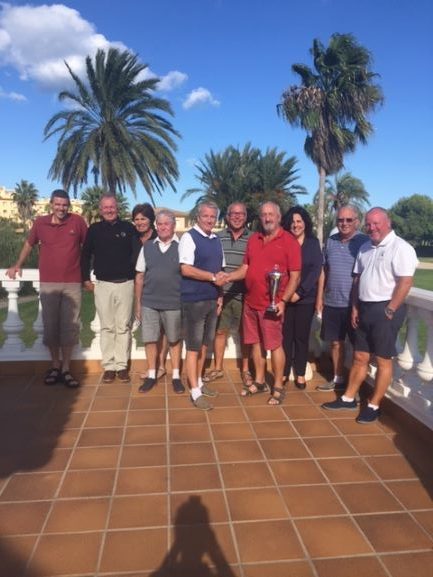 PEGO GOLF SOCIETY PLAYING THE BLACKTOWER CHALLENGE AT OLIVA NOVA ON TUESDAY 5TH OF NOVEMBER 2019
On a beautiful morning for golf at Oliva Nova Golf Club, Pego Golf Society, had 40 members for the last of the MAJOR competitions for the year and that was the for the BLACKTOWER TROPHY. We were delighted to have along to present the trophy to the winner, two representatives from BLACKTOWER, namely Christina and Susan Ellis
We had two guests today, and they were Garry Quaife and Martin Dunkley and both were warmly welcomed by our Captain Mr Bill Pike
In the Nearest the Hole Competition with their second shot, the winner at Hole No 5, was David O'Connor with 2.76 meters, and at hole16, the winner was John Ross at 2.43 meters.
The Balls in the Water prize was not won today, as the total was 128 and nobody picked it, so it will be a roll over, and in the 2's competition, there were three two's which counted today and they were by Barry Levett, Nigel Siddall and David Blackley.
In the main competition itself, the results were as follows:
Division 1
1st Place was Peter Cornes with a net 70
2nd Place was Danny Herron with a net 71
3rd Place was Feli Baybut with a net 72
4th Place was Shaun O'Gorman with a net 73 (Lowest Gross Score 78)
5th Place was John Evans with a net 74
6th Place was John Snelling with a net 74
Congratulations to Peter Cornes, who overcame some big names to take the trophy with a net 70
In the match play Brian Barden last week beat John Snelling by 3/2 and Paul Sankey beat Susie Snelling by 4/3. It was a bad day for the Snellings.
There was a card draw from the generosity of Blacktower, and the winners of that were Celia Cronin and Robert Jenkins
Next week we have a Stableford Challenge and all who wish to play in this, please contact Penny Barden at [email protected], and we would love to see you.