A FEMALE EAGLE has racked up hundreds of pounds in roaming charges after being fitted with a device to track her migration path.
Russian scientists were monitoring 13 birds in their routes from Siberia but ran out of money after some of the birds flew to Iran and Pakistan and their SMS transmitters drew huge data roaming charges.
One steppe eagle named Min flew first to Kazakhstan, to an area without mobile coverage.
She stayed there almost four months and then flew by a circuitous route to land in Iran, and all the previous messages unloaded at once causing 'astronomical' roaming charges which the scientists were billed.
The price per SMS in Kazakhstan was about 15 roubles (18p; 30 US cents), but each SMS from Iran cost 49 roubles. Min used up the entire tracking budget meant for all the eagles.
The SMS messages served to deliver the birds' coordinates as they migrate, which the team then use with satellite photos to see if the birds have reached safe locations.
Power lines are a particular threat for the steppe eagles, which are endangered in Russia and Central Asia.
The team, volunteers at the Wild Animal Rehabilitation Centre in Novosibirsk, did not however expect the huge data roaming charges and have had to set up crowdfunding on social media to pay off the bills.
Their crowdfunding appeal, aptly named: "Top up the eagle's mobile".
The birds breed in Siberia and Kazakhstan, but fly to South Asia for the winter. On an earlier flight south from Russia, Min had ventured as far south as India.
Other eagles had far more modest roaming charges.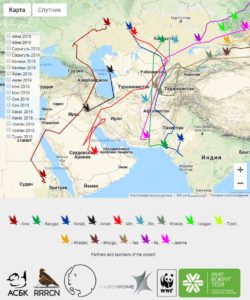 …
If you have enjoyed this news article, please note that our current charitable activity is on behalf of Cuidad de los Niños orphanage in Malaga.
If you would like to make a small contribution to this cause it would make a great difference to the orphans of Malaga!
Please donate at: https://www.gofundme.com/f/beunited-for-malaga-orphans