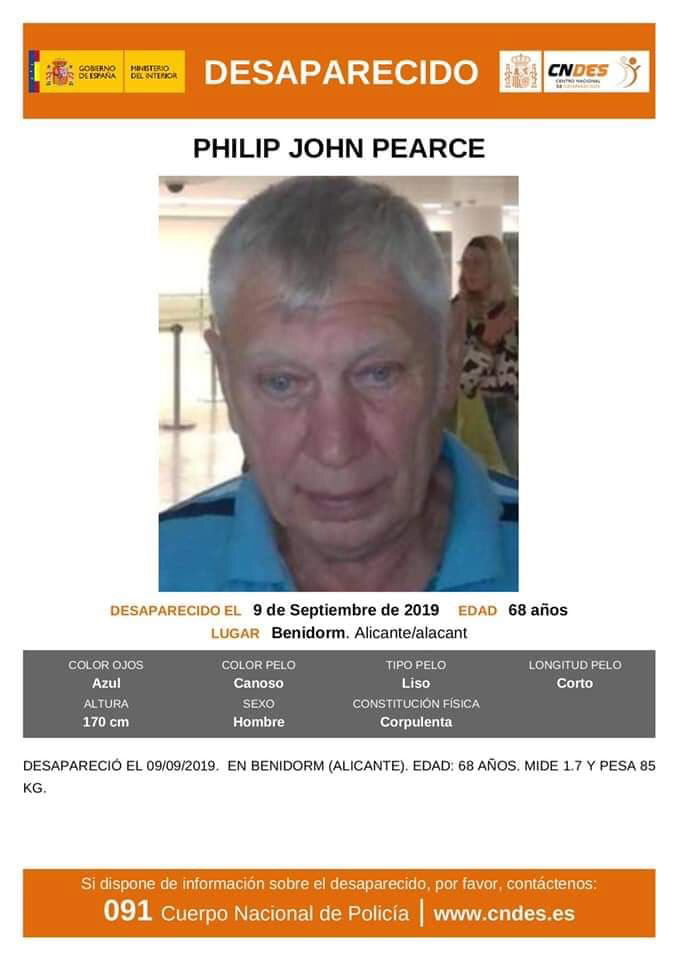 Philip John Pearce has been missing since the 10th of September in Benidorm. His family are doing everything in their power to bring him home and are appealing to the public for information.
The 68 year old man is in the early stages of Dementia and is believed to have become disorientated. He left home at 5pm on the 9th of September to buy tobacco when he became confused about his surroundings.
A thoughtful holidaymaker found Phil and asked for his name and residence but he wasn't able to remember any details. With no ID on him, all Mr Pearce could recall was that he was "Phil from Bridgewater". The worried holidaymaker helped Phil to the Police Station in Old Town Benidorm where he was released at 3am.
Since his release there have been no further confirmed sightings. His family and sons -Wayne and Lee- have arranged search parties to no avail. Police in the UK have been involved in the search and are hoping for information from Interpol.
N.10 Downing Street has also been notified by letter and have assured the family the relevant people have been notified. Correspondence was written on behalf of the prime minister who was sorry to hear the devastating news.
The family are grateful for any help and ask Benidorm residents to keep a watchful eye. CCTV images show Mr Pearce with the clothes he was wearing when he seemingly vanished into thin air. These pictures could be useful to jog people's memories.
People are reminded that Phil Pearce would probably look dishevelled and undernourished after spending many weeks missing and with no residence. He has blue eyes, grey hair and is around 170 cm or 5.6 feet.
Citizens are encouraged to contact National Police at 091 if they have any further useful information.