MEMBERS of the Auditorium Foundation and the town hall recently met the landmark building's architect.
Teulada-Moraira mayor Rosa Vila, who is also the Foundation's president, and architect Patxi Mangado discussed possible options for providing the Auditorium with an emergency exit.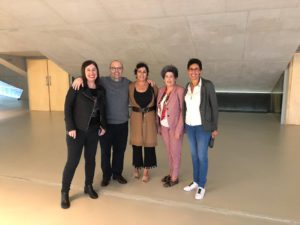 Also present were the Town Planning councillor Vicen Ferrando, the Auditorium's manager, Maite Serrat, and councillor Rosa Caselles who is also a member of the Foundation.
The building, which was inaugurated in 2011, has never received its definitive Activity Licence owing to the absence of an emergency exit and during the meeting Mangado was able to give details of his solution to the problem.
This will be passed on to the regional government, together with an application for the definitive Activity Licence.
"We would like to thank Patxi Mangado for his willingness to help," Vila said afterwards.
"The meeting was very positive and we are certain that our Auditorium will have everything in order as soon as possible," she added.
–
If you have enjoyed this news article, please note that our current charitable activity is on behalf of Ciudad de los Niños orphanage in Malaga.
If you would like to make a small contribution to this cause it would make a great deal of difference to the orphans of Malaga!
Please donate at https://www.gofundme.com/f/beunited-for-malaga-orphans