Islamic State leader Abu Bakr al Baghdadi has been killed in a military raid in Syria, according to a statement released by the US President, Donald Trump.
Trump took to the stage to announce the news that long time fugitive and leader of the Islamic State militant network is dead thanks to a military strike in Syria's northwestern Idlib province.
Yesterday, Trump wrote a tweet, simply saying "something big has just happened" which sent the internet into a flurry.
Initial reports came in earlier today of a military strike on a compound in Syria, and US Army officials tentatively revealed that Abu Bakr al Baghdadi was possibly on site when the raids took place.
Trumps announcement has revealed more details on the circumstances around the strike and surrounding al Baghdadi's death.
"He died after diving into a dead-end tunnel – whimpering and crying and screaming all the way," said Mr Trump.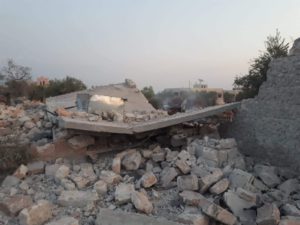 "He had dragged three of his young children with him, they were led to certain death. He reached the end of the tunnel as our dogs chased him down.
"He ignited his vest, killing himself and the three children."
Reports suggest that both of his wives were both wearing suicide vests at the time as well and both died in the attack.
DNA analysis of the remains of the body have apparently confirmed that it was Abu Bakr al Baghdadi, putting an end to an 11 year manhunt for the ISIS leader.
Mr Trump said no military personnel were injured in the operation, and the world is now a safer place.
Trump has thanked the Turkish intelligence for the information that led the US Army to conduct the raids. A senior Turkish official said "to the best of my knowledge" al-Baghdadi arrived at a location in Syria 48 hours prior to the raid.
International reports claim that a total of nine people were killed in the raids, including al Baghdadi, who had remained relatively quiet in recent years after a $25 million (£19.5 million) bounty was placed on his head.
—
If you have enjoyed this news article, please note that our current charitable activity is on behalf of Cuidad de los Niños orphanage in Malaga.
If you would like to make a small contribution to this cause it would make a great difference to the orphans of Malaga!
Please donate at: https://www.gofundme.com/f/beunited-for-malaga-orphans