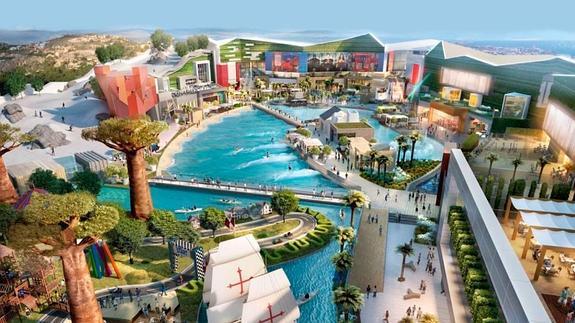 A ONE BILLION Investment and 7,000 Jobs will bring to life the Torremolinos Megacentre which has finally been approved by the local General Urban Planning department
The futuristic commercial park will have hotels, more than 70 shops, a circus, a wave pool for surfing as well as an auditorium for concerts.
2020. This is the date chosen for the start of the construction of the commercial park that the British group Intu Properties and Eurofund are projecting in Torremolinos (Málaga)
The estimated cost has been cited at a mind boggling one billion euros. Construction work that will last for three years is expected to bring to life a commercial area of 25 hectares which will host catering establishments, hotels, concert venues, a casino, a wave pool for surfing and will generate 7,000 jobs.
The promoter, which has already promoted 21 large commercial parks in the United Kingdom, and three others in Spain, has announced in the last hours more details of a business initiative that aims to boost the economy of the Costa del Sol and whose administrative procedures were unleashed last September, when the Junta de Andalucía gave its final approval.
The complex, which will be called Intu Costa del Sol, located north of the Torremolinos Palacio de Congresos seeks to attract more than 30 million people each year and generate two euros of profit for each invested and create vast employment opportunities in the area.
The already termed "largest commercial park in Southern Europe" will be divided into eight themed neighbourhoods – The Lakes, The Arena, Central Park, Wonderland, The Hills, The Hood, The Boulevard and The Gallery – with a leisure offer for all tastes and at all times.
The developers, who have downplayed the possible influence of Brexit, highlight the sustainability of their project, which is expected to have a water recycling system for the irrigation of green areas and low water consumption thanks to the wide selection of native species. They will also use renewable energies and an energy saving system that will reduce the carbon footprint thanks to the fact that it will use 70 percent less energy than conventional buildings.
"We are creating a green lung in the city," said the advisor to the British developer, who in the presentation of the project highlighted the "innovative" management to be implemented.
……
If you have enjoyed this news article, please note that our current charitable activity is on behalf of Cuidad de los Niños orphanage in Malaga.
If you would like to make a small contribution to this cause it would make a great difference to the orphans of Malaga!
Please donate at: https://www.gofundme.com/f/beunited-for-malaga-orphans