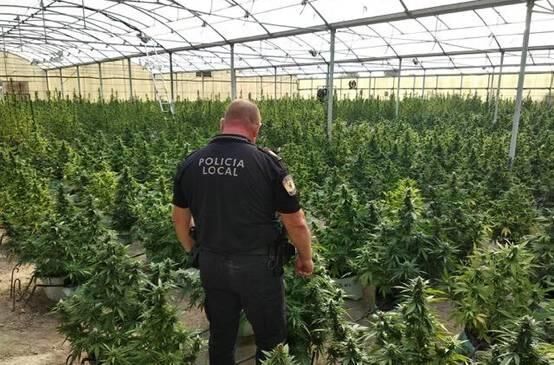 LOCAL POLICE foiled an attempted armed robbery at a legal hemp plantation in Elche.
The hemp – a form of cannabis – was being grown at a farm in Peña de las Aguilas for the textile industry. Its fibres are used to make thread or the soles of shoes.
About 12 people burst into the premises on Monday, October 21, wielding a shotgun and an axe but they were thwarted when a security guard called police.
They arrived minutes later to find plants already stacked and waiting to be loaded. Police were able to stop a van and make one arrest, while the other assailants made a getaway.
Evidence found in the van and another vehicle abandoned by the gang led officers to several alleged members of the criminal group although investigations continue in order to gather more evidence.
It has since emerged that the owners of the farm had already notified police when they saw suspicious people apparently watching the site. For this reason police had stepped up patrols and were able to reach the scene quickly.
Police believe the gang intended to sell the plants on as cannabis. The active agent in cannabis is THC and for drugs use it is usually present at a level of between 3.5 per cent and 15 per cent. The concentration in hemp grown for the textile industry – which growers must have a licence for – is under 0.2 per cent.
—
Please note that our current charitable activity is on behalf of Cuidad de los Niños orphanage in Malaga.
If you would like to make a small contribution to this cause it would make a great difference to the orphans of Malaga!
Please donate at: https://www.gofundme.com/f/beunited-for-malaga-orphans