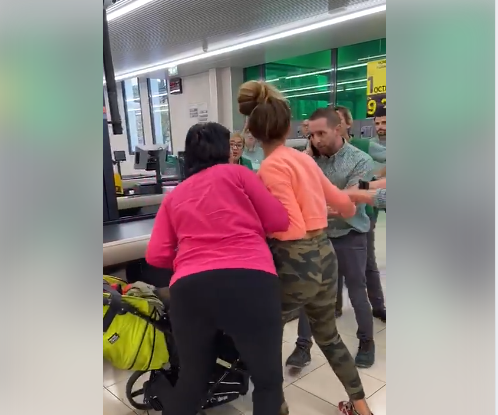 A shocking new video depicting violent scenes in Mercadona has been shared all over social media.
Online users have witnessed the aggression that happened in a Mercadona in Barcelona. The brawl broke out when employees in the area of Cerdanyola del Vallés tried stopping a woman from stealing a large amount of goods. The lady had hidden the products in her son's pushchair and staff asked her to stop when she attempted to leave the supermarket.
Fancy working at Mercadona? 👀 🥊Employees of a Barcelona branch ask a woman to empty her little son's pram, full of stolen products!




Geplaatst door Euro Weekly Newspaper op Vrijdag 25 oktober 2019
The supposed thief refused and started to get excessively violent, lashing out and pushing. More personnel were called for backup as the woman continued to abuse staff.
Meanwhile, the aggressor's older daughter tried to calm her mother and began pulling the stolen loot out of the pram. She struggled to pull her mother back and begged staff to let them go if they gave back the products.
Her pleads went unnoticed, as the woman tackled her daughter out of the way and continued shouting and pushing staff in a desperate bid to flee. The toddler can be seen being thrashed around in the buggy. The video ends with the woman running out of the shop -pram in tow- as employees unsuccessfully block her from escaping.
—
If you have enjoyed this news article, please note that our current charitable activity is on behalf of Cuidad de los Niños orphanage in Malaga.
If you would like to make a small contribution to this cause it would make a great difference to the orphans of Malaga!
Please donate at: https://www.gofundme.com/f/beunited-for-malaga-orphans