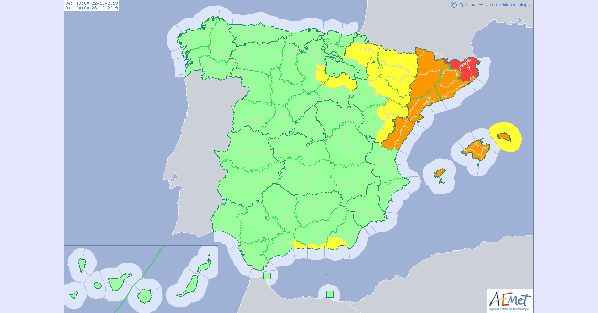 THE DANA leaves 3 wounded in Ibiza, 130 litres per metre square in Levante and moves with force into Catalonia.
The recent cold drop which arrived in Spain Monday has today (Tuesday) left three injured in Ibiza.
The emergency service 061 reports that the three people were injured when a tornado swept through the Ibizan municipality of Sant Antoni and lifted a builder's mobile work-cabin from the ground on a building site with the three men inside.
The three individuals were taken to the Policlinica Nuestra Señora del Rosario, with mild injuries.
Several roads on the island have been closed to traffic due to the fall of trees on the roadway due to the tornado and the motorway to the airport was cut off by flooding at kilometre 6.
Weather reports have recorded accumulations of up to 130 litres per square meter in points of Alicante and Valencia. The cold drop now moves to the northeast, with Catalonia in red alert with records of 180 litres per square metre in twelve hours.
In Castellón, several roads leading to Peñíscola, Vinaròs and Benicarló have been cut in a preventive way before the accumulation of water.
In Vinaròs, classes were suspended from 2 p.m. onwards in all public and subsidised infant, primary, secondary and special education centres, and all municipal sports facilities have been closed.
Rubén del Campo, spokesman for the State Meteorological Agency (Aemet) has stated: "the most complicated moment of this episode is expected between this afternoon and tomorrow, where the rainfall is expected to intensify."
The meteorological Agency alerts for torrential rains in Girona, with an accumulation higher or close to 180 litres per square meter in 12 hours and up to 80 litres in one hour.
The Meteorology Service of Catalonia (SMC) expects torrential rains to increase the flow of the rivers Muga, Ter, Tordera, Besòs, Mogent, Congost, Llobregat, Francolí, Sergre and Valira.
Civil Protection has activated the alert phase of the Civil Flood Protection Plan (Inuncat) and has warned that there may be sudden growth of rivers and streams on the coast and coastal areas.
The Guardia Civil has asked drivers for caution if driving in the rain and has recommended not to circulate in floodable areas, to increase the safety distance and decrease speed.