Crafty idea
THE Jalon Valley Help craft group came up with a clever idea for using rosettes of great sentimental value to create something to show them off to perfection.
Members have incorporated a selection of the brightly-coloured ribbon awards for retired farmers Brian and Evelyn Friths' prize-winning Hereford cattle into a delightful tree design tapestry.
The craft group took on the project after Evelyn, a Jalon Valley Help volunteer, asked whether they could apply their handicraft skills to making something to display the rosettes they brought with them as a memento of their cattle showing years when they moved to the Costa Blanca in 2004.
The ladies were happy to take on the challenge, and after several weeks of nimble-fingered work the 'Tree of Memories' was done. Evelyn was absolutely delighted with the result, and made a donation to Jalon Valley Help as a thank you.
Evelyn and Brian had a farm in Romney Marsh in Kent for 40 years, which is where they brought up their four children. The couple started out with arable crops, but when in the early 1970s their son Andrew decided he wanted Hereford cattle they bought six and started the herd they named The Brodnyx Polled Herefords.
They were soon "bitten by the Hereford bug", Evelyn said, and eventually had over 300 head of cattle. Then they decided to enter into the world of showing.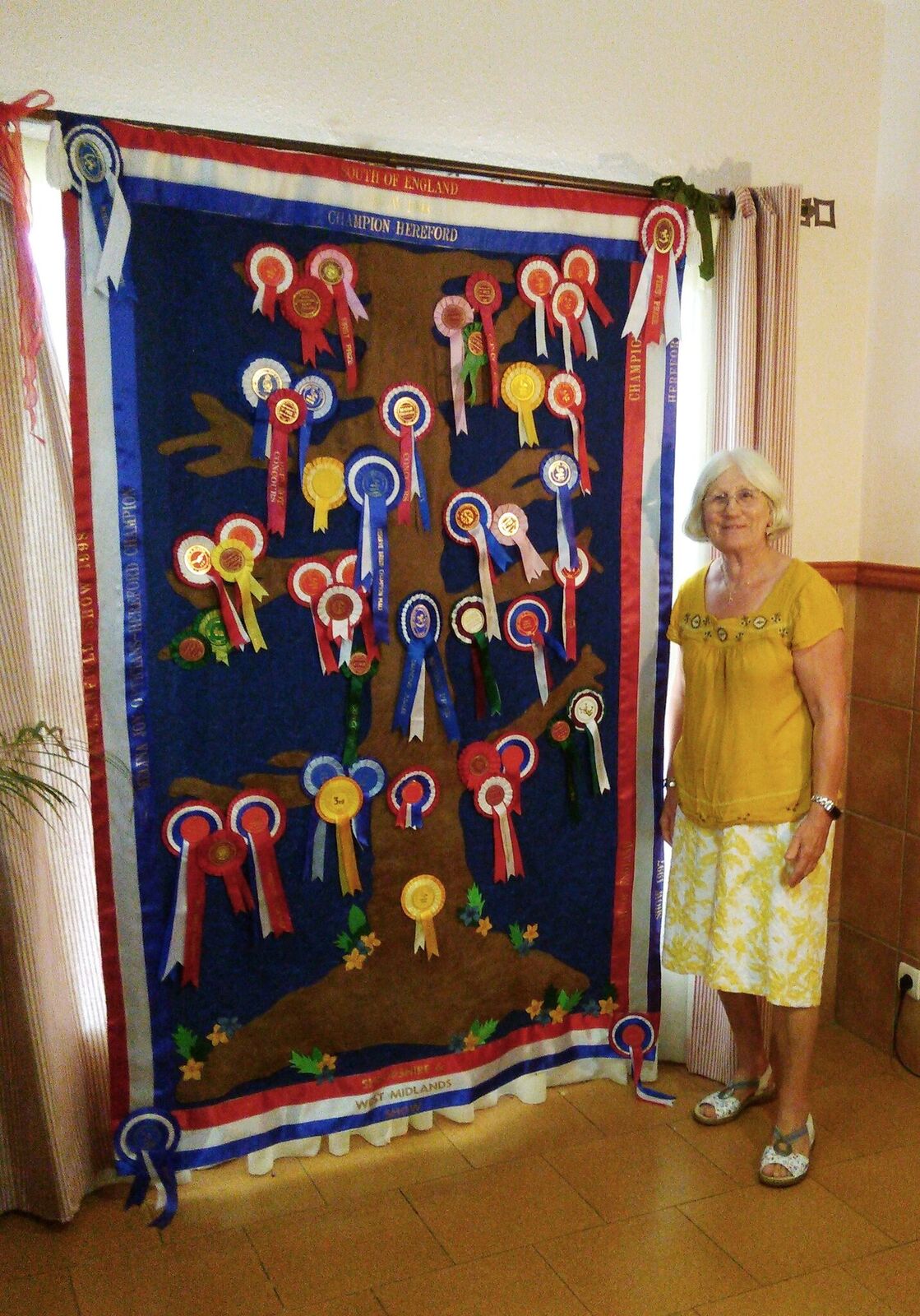 They came bottom of the classes to begin with, but with the help of Andrew and daughter Tracey, Evelyn and Brian went on to show their cattle all over the country and scooped many prizes over the years, occasionally meeting royalty along the way. The prestigious awards included The Royal, Three Counties and National Polled Show, and they were three times winners of the South of England Herd of the Year.
The Firths' farm became increasingly focused on livestock, also including sheep and free-range chickens, turkeys, geese, ducks and guinea fowl, which they sold through their butcher's/farm shop and farmers' markets in Kent and London. They were among the first to produce meat based on a totally natural diet free of antibiotics, and their products were in great demand.
Paul O'Grady was one of their customers, as was Joanna Lumley's mother.
It was very hard work, but they thoroughly enjoyed it, Evelyn said.
Tragically they lost their son Andrew in a road accident in 1991.
"We carried on for a few years, but our health could not stand the long hours", Evelyn explained.
"So we reluctantly decided to sell all the animals and close the shop. We then came to Spain for a change and rest."
Evelyn and Brian are now enjoying a well-deserved and distinctly slower pace of life on the Costa Blanca. And thanks to the craft group have a lovely reminder of their many happy, hard-working years back in the UK to hang on their villa wall.