THE Catalan capital has awoken this morning to count the costs of another night of violence.
Barcelona's mayor, Ada Colau has urged protesters to leave the streets after what has been the worst night since the protests started six days ago.
More than 500,000 people took to the streets last night to protest the sentences given to pro independence leaders over their role in 2017's failed secession attempt.
Once again violence erupted as hundreds of masked protesters surrounded the police headquarters and threw petrol bombs, acid and petrol bombs at Mossos d'Esquadra officers and well as using nails and weapons to damage police vehicles.
Dozens of bins have been set of fire and fireworks have even been launched at police helicopters.
Riot police fought back using tear gas, rubber bullets and water cannons.
Officials estimate that around 500 people have been injured so far in the violent clashes, including both police officers and rioters. 18 are reported to still be in hospital, one in a serious condition.
Photos are also emerging of journalists reporting on the clashes being stuck by debris and rubber bullets shot by riot police.
According to Fernando Grande-Marlaska, Spain's interior minister, 101 police officers were injured during last nights violence alone and more than 250 police vehicles have been seriously damaged since the protests began.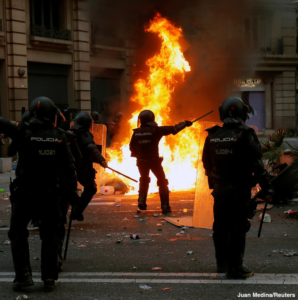 Catalan leader Quim Torra has urged rioters to stop using violence and to respect the catalan movement in the city whilst the city mayor Colau has called on protesters to leave the city, saying, "This cannot continue. Barcelona does not deserve it."
Vice President Pere Aragones has gone against Spain's Interior Ministers wishes and condemned the police force for their use of aggressive tactics.
Quim Torra has used a television address to ask the Spanish Prime Minister Pedro Sanchez for a meeting to negotiate the release of the separatist leaders and put an end to the violence scarring the city.
Sanchez has responded by saying he is open to talks as long as it is done within the framework of the law.