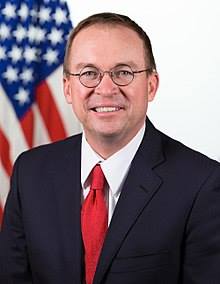 ACTING White House Chief of Staff Mick Mulvaney told reporters Thursday that President Donald Trump blocked nearly $400 million in military aid to Ukraine.
Blocked in part to force the government in Kyiv to investigate his political rivals, a startling acknowledgement after the president's repeated denials of a quid pro quo– a Latin phrase meaning a favour for a favour –
During a July 25 call Trump asked Ukrainian President Volodymyr Zelenskiy to investigate a domestic political opponent, Joe Biden, and Biden's son Hunter Biden, who had served as a director for a Ukrainian energy company. Zelenskiy agreed during the call to carry out the investigation that Trump sought. The U.S. aid later was provided to Ukraine.
Mulvaney said that the military aid was withheld for three reasons: Trump's worries about corruption in Ukraine, his feeling that other countries were not contributing enough money to aid Ukraine, and "whether or not they were cooperating in an ongoing investigation with our Department of Justice"
A reporter told Mulvaney that what he just described was a quid pro quo. To which Mulvaney replied: "We do that all the time with foreign policy,"
Mulvaney denied, however, that the aid was withheld in relation to Trump's request that Ukraine look into 2020 rival Joe Biden. "The money held up had nothing to do with the Bidens," he said.
Mulvaney said it was "completely legitimate" for Trump to withhold the aid to Ukraine while asking them to participate in their request.
Biden is a leading contender for the Democratic nomination to face Trump in the 2020 presidential election.