FLOCK TO MADRID
THIS incredible scene is an annual spectacle in Madrid as thousands of sheep are led past the city hall in October.
The festival celebrates the centuries-old tradition of seasonal livestock migration. The 601st anniversary of the Fiesta de la Trashumancia is marked in the last week of this month, and involves a journey from Casa de Campo to Cibeles.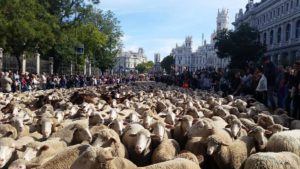 Conceived by the Association of Transhumance and Nature, it was designed to recognise and celebrate the tradition of seasonal livestock migration. Since then, hordes of sheep (and sometimes bulls and horses) take over the Spanish capital once a year. They stumble through the elegant streets of Madrid with their hoofs clattering on the asphalt.
A procession of people singing and dancing precedes them. Keeping the beat with castanets, women in mantillas, customary head coverings, and large, colourful skirts with aprons and men in wide pants tucked into long socks swirl around each other in ajota, a traditional Spanish dance. The dancers wear wooden shoes on spikes, paying homage to the pastors who wear them to navigate muddy fields.
Accompanied by the sounds of flutes and tambourines, Madrid Mayor greets the shepherds in front of City Hall. When the 2,000 sheep appear on the square, the public spills onto the plaza. The shepherds then pay the mayor 50 maravedís al millar—50 coins per thousand heads—the payment established in 1418 for crossing the city.
See more Spain News