THE remains of a dead whale washed up on the Mojacar shoreline on Friday.
British volunteers with the Equinac marine life rescue association, Alex Lawson and Clare Flatters-Cooper, and Local Police officers retrieved the remains from an area of cliffs following a report from the 112 emergency service, which had been alerted by a call from a local resident.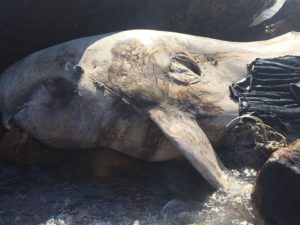 Equinac said the corpse of the whale, a common calderon, was tangled in a fishing wire. Commenting on its Facebook page Equinac maintained that despite the corpse being in an advanced state of decomposition it was "obvious" what had caused had caused its death.
"Non-selective and abandoned fishing gear poses a serious threat and a deadly trap to marine wildlife", Equinac warned.
See more Costa de Almeria News