MOJACAR Bowls Club played host to a visiting Scottish team which made quite an impression.
Some 40 bowlers from the Corstorphine team just outside Edinburgh made a somewhat spectacular entrance at the club with a piper leading the way as they marched from their hotel to the Mojacar Playa green.
It was, the host club's Alan Bramble said, "a truly stirring moment not seen or heard before here in Mojacar."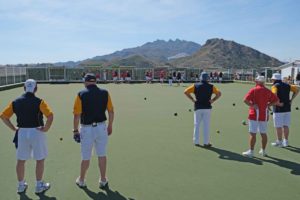 Prior to the bowls match there was a 'spider', where all the competitors did their best to cast their bowl at a target in the middle of the bowls green. The player who got their bowl the nearest was rewarded with a bottle of Tamnavulin single malt scotch whisky, a prize which had everyone's minds fully focused.
This was followed by an exchange of gifts between the captains of the two clubs before the competition began in earnest.
The bowls match took place with the usual very competitive but friendly atmosphere, proving to be a thoroughly enjoyable occasion.
Corstorphine Bowls Club, located approximately five kilometres west of the Scottish capital, has a long history, having been originally established in 1891.
See more Costa de Almeria News