Starring Gaudi and Messi
MEMBERS of the U3A Vall de Pop recently returned from Barcelona.
It was a wonderful trip, they said, travelling first class (preferente) on the Euromed train from Valencia with their guide Salvador.
After a relaxing journey with breakfast on the train they enjoyed a panoramic tour of the beautiful city, visiting the Sagrada Familia basilica next day.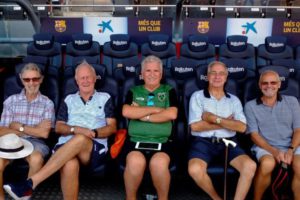 They were stunned by the iconic church whose construction was taken over by Antoni Gaudi in 1883, a year after building began. When the architect died in 1926, the Sagrada Familia was only a quarter finished but once completed in 2026 to celebrate the centenary of his death, it will have 18 spires, representing the 12 Apostles, the Four Evangelists, the Virgin and Christ.
Next stop was Parc Guell, another of Gaudi's projects in his colourful quirky style which is now municipal property.
Next came a free day to explore what Barcelona has to offer and U3A members went their separate ways, with some visiting Barcelona's Camp Nou football stadium which holds just over 99,700, with plans for expansion under consideration.
A few went up to the press boxes high above the pitch and more than one dreamed, "Messi here we come!"
Parks and museums were other city attractions including the bullring which has now been turned into a huge shopping entre with an outside lift taking visitors up to the roof area.
It was a wonderful trip, U3A members agreed, but all too soon they had to return to Jalon and leave Gaudi and Messi behind.
For further information on U3A Vall de Pop check their www.u3avalldelpop.com website.
See more Costa Blanca North News