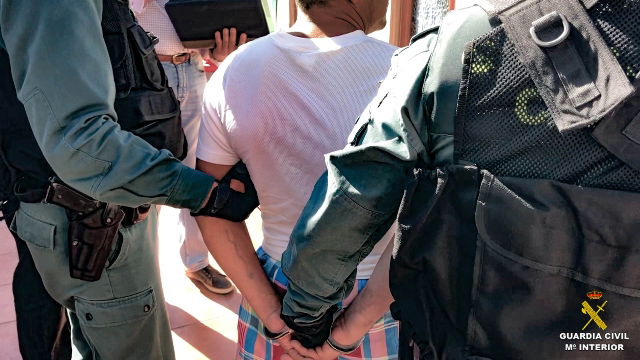 A HUMAN trafficking operation enslaving at least 600 victims in Andalucia´s agriculture industry has been dismantled.
The Civil Guard has broken up a criminal organisation that recruited people in Eastern Europe, Romania and Moldova – including entire families – promising them a better life in Spain.
A total of 145 people were rescued from slave labour in the operation that led to 16 criminals being arrested, including businessmen from different Spanish provinces, who had victims working illegally. A further five people remain under investigation.
Charges brought include human trafficking, labour exploitation, money laundering and belonging to a criminal organisation.
It is estimated that the organisation had been in control 600 victims who had been duped into being brought to Spain with dreams of economic security only to be held captive and exploited in olive, grape and strawberry harvesting.
Those arrested were operating in the provinces of Jaén, Huelva, Córdoba, Badajoz and Albacete.
The victims were transferred to different areas where they were forced to work in dangerous conditions, live in dangerously overcrowded and insanitary camps and stripped of their rights.
Of the more than 145 victims detected, 18 of them have been identified and released to the care of voluntary organisations.
Police say the victims had been tricked into accepting jobs advertised on the internet with false promises of employment in adequate working conditions.
The "captors" assured the victims that, once in Spain, they would be provided with decent living and working conditions only to find themselves in semi-slavery and in some cases going for days without food.
In some cases, victims were forced to give up their passports and other identification and issued with fake passports.
The geographical scope of action, in which the investigated group operated, covered different Spanish provinces and Portugal, depending on the different types of seasonal crops.
The research focused on the provinces of Jaén, Córdoba, Badajoz and Huelva, although there were links at national and international level, so there was collaboration in the investigation of Europol members specialising in such offences.
Gang members meanwhile lived a luxury lifestyle earning up to 1,000,000 euros a month from the companies using the victims as forced labour.
This operation has been carried out by a joint working group formed by agents of the Organic Unit of the Judicial Police of Jaén and the Human Trafficking Section of the Central Operating Unit of the Civil Guard, in collaboration with the Organic Units of Judicial Police of Huelva, Albacete, Córdoba and Badajoz, with the support of the Judicial Police Technical Unit and the Ministry of Labour.