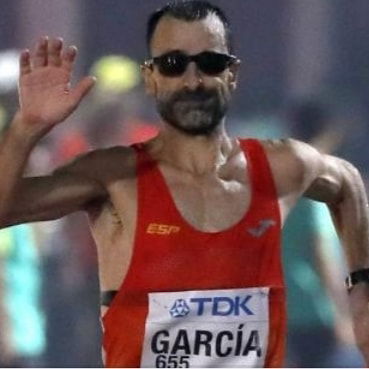 SPANIARD JESUS ANGEL GARCIA, specialising in race walking is the oldest participant at the World Athletics Championships in the history of the event.
Garcia is also the athlete with with more Olympic (7) and World Championships (13) participations.
No one has ever competed in a World Cup at his age. Twenty-six after his first World Cup experience, when he was proclaimed world champion in Stuttgart'93 and runner-up three times, Athens'97, Edmonton 2001 and Berlin 2009).
He will be 50 years old in Tokyo 2020, competing in his EIGHT Olympic Games.
After the race, Garcia, who needed over an hour of medical assistance to aid with the recovery of competing under such harsh and humid conditions in Doha, commented that ironically his finishing time was the worst of his life, but will allow him to go to the Tokyo 2020 Olympics. The 2020 Olympics will be the the last professional race of Garcia's glittering, long-lived sporting career.
Yusuke Suzuki from Japan, won the 50km event race with the 43 year-old Portuguese, Joao Vieira, another veteran racer, taking the silver.