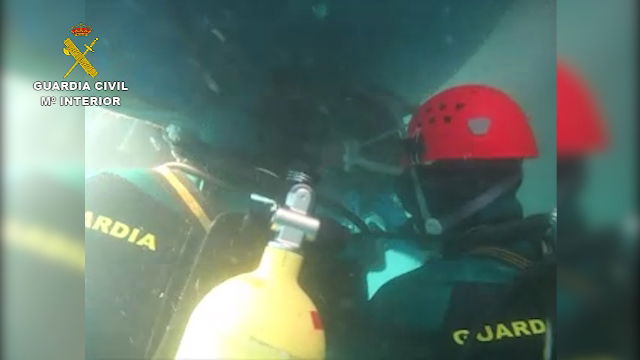 SMUGGLERS who anchored bales of hashish to the seabed have been sunk by Guardia Civil.
A total of 32 people have been arrested, two tonnes of the drug, three boats and five vehicles seized in Operation Casual. One of the arrested was a member of Salvamente Maritimo (Spanish Coast Guard) who had inside information on police maritime patrols.
The organisation was mainly based in Tarifa but also involved people in Algeciras and Cordoba province.
The investigation began last January, when the Guardia Civil learned of the existence of several people living in Tarifa with a high standard of living, but an apparently low income.
Curious as to how they could live such a luxurious lifestyle, police put them under surveillance.
Police soon found that the organisation had a first branch specialising in smuggling drugs into Tarifa port using recreational boats and a second branch, which used inflatable boats manned by divers.
These divers – described as experts with an intimate knowledge of the local coastline – were well equipped for long dives.
Their task was to recover bales of hashish which had previously been dropped at strategic locations and anchored to the seabed.
During the first phase of the operation, the Guardia Civil intercepted two caches totalling 20 bales of hashish that the organisation had tried to smuggle on recreational boats.
As a consequence of these two seizures searches were carried out at several farms and houses in Tarifa where the alleged leaders and members of this branch of the organisation lived.
Several arrests were made and computer equipment and mobile phones seized.
Information gained from these searches led investigators to a farm in La Ahumada, which was being used by the organisation as a hiding place for drugs.
Police put a watch on the premises and saw a heavily loaded vehicle riving away at high speed.
Officers tried to wave down the vehicle, but the driver ignored them and raced away. It was finally intercepted and 11 bales of hashish found.
In the second phase of the operation the other arm of the gang was tackled.
Police discovered that they were preparing to smuggle a cache of hashish using the "anchoring" method. This method is very difficult to detect as they use boats that throw a series of bales into the sea tied together with heavy weights to ensure that they remain hidden in a particular location on the seabed. These areas are geolocated so that experienced divers can then extract the illicit goods at night.
For this reason, the Guardia Civil put a surveillance operation on this branch of the organisation, resulting in the arrest of the crew of a boat as they sank the bales of drugs. Also arrested were the divers and crew another boat who later tried to recover the bales.