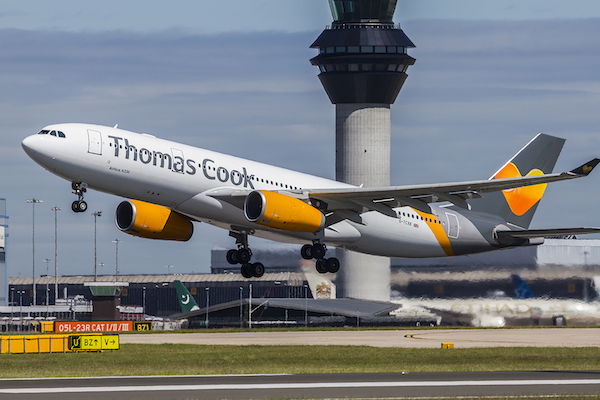 As potential investors walk away Thomas Cook call upon the Government for a bail out loan.
It's been reported the hedge fund CQS has walked away from talks to provide urgent liquidity to the ailing travel company, a series of possible scenarios that were on the table in recent days have been ditched after it became clear that the company could become insolvent within hours.
A separate proposal which would have involved CQS Management, the hedge fund run by the London Stock Exchange Group's former chief executive, Xavier Rolet, providing a big chunk of the £200m additional funding demanded by Thomas Cook's lenders, had also been aborted. A request for emergency government funding was made by Thomas Cook this week, with executives arguing that the cost to taxpayers would be dwarfed by the bill incurred by the repatriation, led by aviation regulators, of 150,000 customers currently overseas.
The Travel operation have now today turned to the British Government for a 200 million bail out but a senior Whitehall source said the possibility of a government loan on commercial terms could not be entirely discounted, but was very remote. Whitehall though have put in place a plan to repatriate British travellers in the event the travel agency.
The hours are counting down now for Thomas Cook with the future looking very bleak as potential investors have walked away.
Concerned Ex Pat Ian Rodgers told the Euro Weekly News this morning how he and his wife booked a holiday to the Maldives with Thomas Cook for late November. The luxury trip is to celebrate their wedding anniversary, t
hey have paid a deposit of £800 and the balance of £7,540 is due by midnight on Tuesday.
Thomas Cook is of course, still operating at present but their predicament underlines the anxiety many customers are feeling.
Mr Rodgers called the customer service helpline and asked if they could delay paying the balance until they know that the tour operator is not going to fall into administration. But they were told the deadline remains, or they would lose their £800 deposit.
"We were going to pay on debit card, but now I think we'll put it on the credit card if we go forward," Ian said.