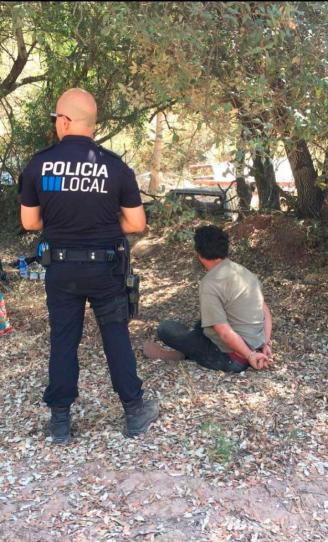 POLICE in Esporles have arrested a man for allegedly starting three forest fires in the area last week. The suspect, a 45-year-old German man, was picked up by police in the area of Son Quint, where the last fire was started on Sunday. He was reportedly carrying firelighters and sources claim evidence suggests he was trying to start another fire.
The suspect resisted arrest, according to police sources, and offered no explanation for his alleged involvement in the events. The Local Police arrested the suspect and investigated whether he could also be behind two arson attacks on vehicles this month in Esporles and Palma.
The first fire was started on August 19 at midnight next to Camí d'es Correu, between Esporles and Banyalbufar. The fire was tackled by firefighters who worked until six in the afternoon the following day to extinguish the fire which destroyed 6,000 square metres of pine forest.
Two days later, at around 2pm, another fire was started in the same area. On this occasion planes were brought in to extinguish the fire, which caused alarm due to the proximity of houses. The rapid intervention of the emergency teams prevented the fire from spreading and only 100 square metres of pine forest were burned.
Finally, another 2,000 square meters of pine forest were burned in the Son Quint area a few days later. The fire started at 7am and firefighters worked until 4.30pm to put it out.
The man is being held by the Guardia Civil whilst they investigate his motivations for allegedly starting these three fires and whether he was involved in other fires in the area.