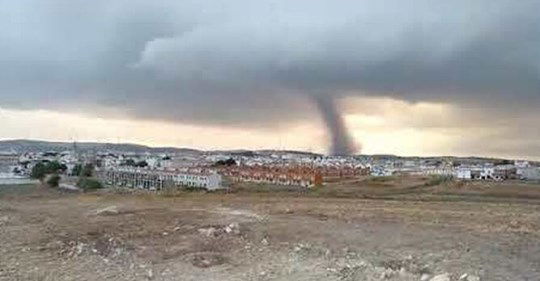 A spectacular tornado swept across Campillos earlier this afternoon leaving residents shaking in its wake.
A yellow alert for storms had been activated throughout the Spanish Peninsula. Meteorologists have claimed the cause of the dip in temperatures and abnormal weather passing across Spain has been caused by the formation of a DANA (Isolated Depression in High Levels). In the last few hours it has shaken the peninsula, strong storms have ripped through the land, accompanied by hail in much of Andalusia. In addition to the downpour, the DANA created one of the most spectacular images, occurring late afternoon as a tornado crossed the municipality of Campillos.
The 112 Andalusia Emergency Service received a call from Civil Protection at 8:30 p.m. Monday evening, warning of the possible tornado due to pass within one kilometre of the town, in the Las Chamorrillas area.