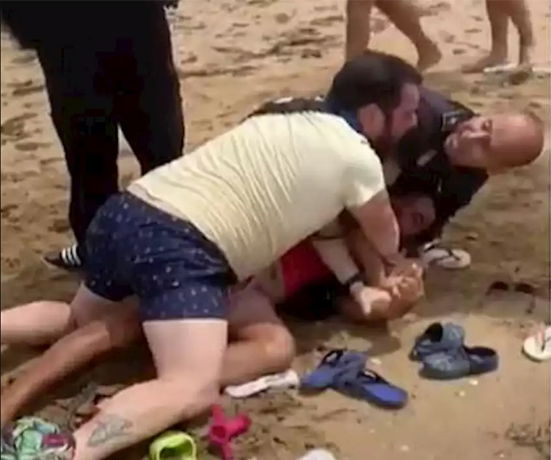 AN itinerant salesman has been handed a suspended jail term of two years after stabbing the deputy chief of Punta Umbria's Local Police on a holiday beach.
The judge has agreed to a plea deal made between the public prosecutor and FCM's defence lawyer. This suspends the sentence for four years on the condition of good behaviour.
He will also have to pay his victim €1,685 compensation and another officer who was slightly wounded €320.
The case hit international headlines when a video of the incident was posted on social media. The Local police were carrying out an operation against unlicensed salesmen who used the beach as a pitch. In the video, the man is seen to stab the officer five times before he was subdued. The victim spent several days in the hospital.
FCM admitted assault with a dangerous instrument and causing injury with a dangerous instrument, with the extenuating circumstances of mental derangement.
The private prosecution, who represented the victim, had opposed the Public Prosecutors submission, instead of demanding the defendant be sentenced to "the maximum penalty provided for by law", that is three years and six months' imprisonment.
However the judge said that because the defendants had admitted their actions, already paid compensation and accepted the Public Prosecutor's penalties, then a lighter sentence was in order.
In this case, his brother MCM was also tried, and the judge sentenced him to six months' jail for attacking officials of authority.
A third defendant, MPV, a swimmer who obstructed police work, was fined €1,100 and ordered to pay €400 compensation.