ALMERIA Guardia Civil has arrested eight members of a gang of thieves targeting tobacconists, bars and cafes.
The Guardia launched investigations last November following an increase in robberies from these kinds of businesses in the lower Andarax valley area. They identified a similar pattern to the cases: the robbers went straight to where tobacco products or takings were stored, indicating they had kept a watch on the establishments and their owners for several days before carrying out the riads to gather information on where money was kept, opening hours and escape routes.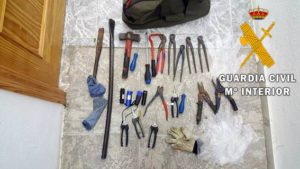 The Guardia said they had also delayed the break-ins if they believed there was a chance of being seen by witnesses or running into the owners or employees.
The Guardia set up a complex prevention and patrol plan and by March had established it was dealing with a well-organised criminal structure.
They also said that to avoid being connected with each other in the event of a security forces' investigation the gang members lived in different parts of Almeria, Alicante and Barcelona.
The Guardia revealed the gang leaders lived quietly in a property in Alicante, which was also a meeting point for members to plan their next targets, and where they had top-of-the-range vehicles at their disposal.
In recent months it became apparent the organisation had shifted its illegal activities to localities in the Gador mountains close to El Ejido, before moving into the Huercal-Overa area.
With the gang members clearly identified the Guardia detained the eight in coordinated operations in Roquetas de Mar, Huercal de Almeria and Alicante province. They also seized €1,700 in cash, a range of tools used to get into businesses, specialised internal communications systems and six luxury cars.
The now dismantled gang was responsible for at least 24 robberies, mainly in Almeria, the Guardia said, but added that the investigation remained open and they had not ruled out linking them to break-ins on the borders with Granada and Murcia.