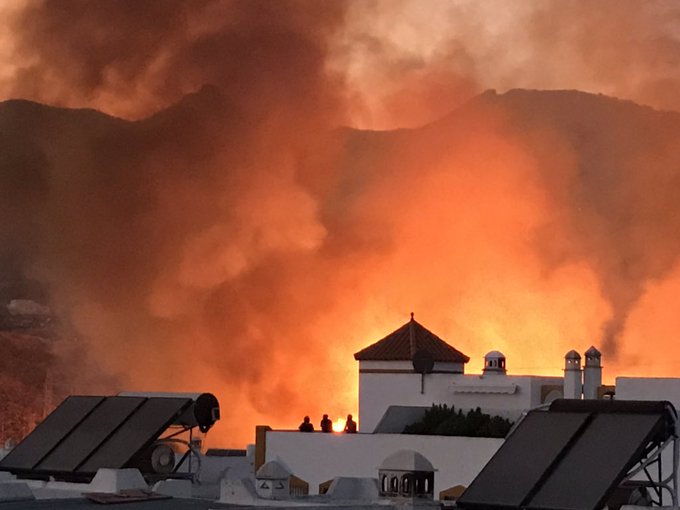 30 homes have been evacuated due to a fire which started earlier this evening in Marbella near the AP-7 and the Bello Horizonte urbanization.
The emergency telephone number 112 received the first notifications at around 20.20 today (Thursday) warning of a fire near the AP-7, at kilometre 172, in the vicinity of the Bello Horizonte urbanization.
It has been reported that many residents have removed vehicles from the area and have taken their own hoses and other tools to set up a fire break.
52 forest firefighters, four fire engines together with three auto pumps have been sent to the area where they have been joined by Local and National police and two environmental agents.
Up-dates to follow.
Desalojado fase 3 Bello horizonte

Geplaatst door Marbella se queja op Donderdag 22 augustus 2019
Cada vez más activo y más cerca. Desalojadas 30 viviendas de la tercera fase de Bellohorizonte

Geplaatst door Marbella se queja op Donderdag 22 augustus 2019
Toda esa fila de casas las han tenido que desalojar por el fuego. Bellohorizonte fase 3 #marbella

Geplaatst door Marbella se queja op Donderdag 22 augustus 2019
Vídeo evacuando a los vecinos de la Fase 3 de Bello Horizonte ojalá se pueda sofocar el fuego pronto y vuelvan a sus casas intactas

Geplaatst door Marbella se queja op Donderdag 22 augustus 2019
, fuego en la parte del recinto ferial de Marbella centro comercial La Cañada

Geplaatst door Marbella se queja op Donderdag 22 augustus 2019
Los bomberos trabajando a pleno rendimiento. #marbella #msq

Geplaatst door Marbella se queja op Donderdag 22 augustus 2019