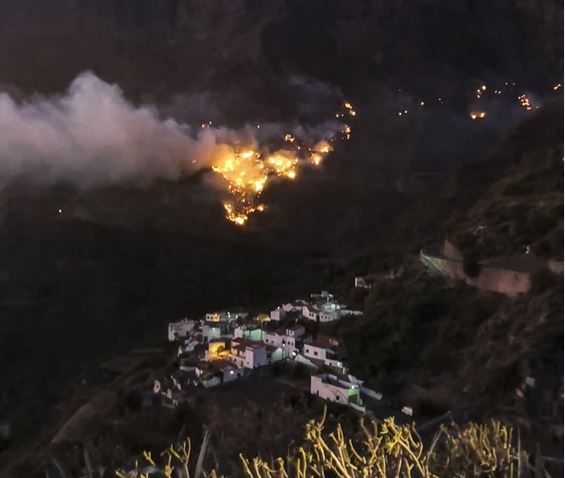 The president of the Canary Islands, Ángel Víctor Torres has warned "the wind prevents full control of the fire." The biggest risk now, as Torres has explained is "if the fire moves to the area of La Degollada de Tejada or La Aldea, it could complicate the situation."
If the wind is more than 70 kilometres per hour "the risk is high," said the president. The wind, according to the forecast, is expected to blow with greater intensity.
The Canarian president explained that throughout Sunday, 250,000 to 300,000 litres of water were discharged over the area affected by the fire through the ground operations and the nine helicopters, the plane and the hydroplane of the Ministry of Agriculture, which arrived on the island Sunday afternoon.
Some 230 people from the land operation continue to extinguish the fire which remains contained within the established limits of 23 kilometres.
The Guardia Civil arrested a 55-year-old man, of Spanish nationality and neighbour of the Gran Canaria municipality of Telde, in relation with starting the fire. The information gathered in the initial investigation indicates that a welding machine was being used in the immediate vicinity of the GC-21 road, at the height of the Peñas Crossing, in an open and low-mount land.