SPAIN'S acting prime minister and his governing party are planning to strip 37 families of noble titles granted by former dictator Francisco Franco.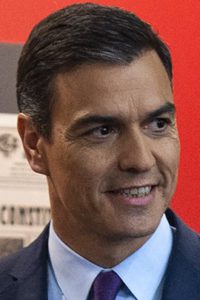 Pedro Sanchez's left-leaning Partido Socialista (PSOE), which remains in government in a caretaker capacity since April's inconclusive election, filed the proposals in the Cortes at the end of last month.
The proposals were submitted alongside others connected with Spain's Historical Memory laws, legislation which requires the government to rid Spain of remaining features of Franco's fascist regime.
PSOE propose stripping the descendants of several of those who were in Franco's inner circle of the titles they inherited from them.
The party said the titles 'exalted' the Franco regime and Sanchez said it came as part of a 'clean-up' of Spain's nobility.
The Francisco Franco Foundation which promotes the former dictator's legacy has condemned the proposal.
The Countess of Jarama, Marquis de Davila, Duke of Calvo Sotelo, Count of the Alcazar of Toledo and Duke of Franco would all lose their titles if the measures are approved.
The last of those titles was created by King Juan Carlos in 1975 and was given to Carmen Franco, the only child of Spain's former dictator.