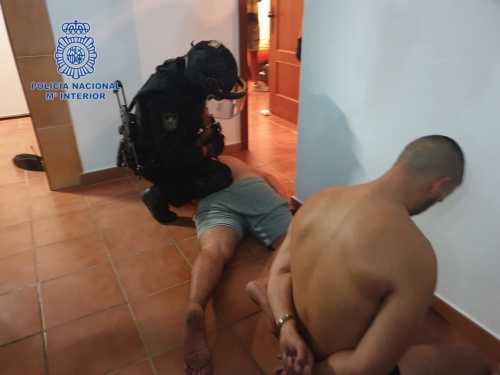 AN alleged hitman from Ceuta who fled justice has been arrested by National Police in Casares(Malaga).
The law enforcement agency says the man belonged to a criminal organisation which they disbanded in 2015. It was dedicated to drug trafficking and extortion and its members had been involved in numerous violent attacks.
As part of this operation, agents also arrested two other people involved in organised crime in Ceuta.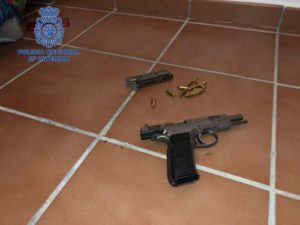 The search for the alleged hitman dates back to 'Operation Axe', which was launched in 2014 with the dual purpose of identifying the violent criminal organisations based in Ceuta and locating their members, many of whom had committed serious crimes resulting in death or serious injury.
The investigators discovered that the violence was related to drug trafficking and extortion. Police identified two gangs. The first had controlled drug trafficking in the city for a long time, while the second was trying to move in on their turf.
The new gang attempted to take control of the drug trade through violence, which culminated in the death of the leader of the first gang.
In addition, in an effort to gain control of the illicit business, the second group carried out violent acts against people connected to the rival gang and against its own members it suspected they were passing information to the opposition or doing business behind their backs.
The investigation revealed that the second gang had its own hitmen, all of whom had numerous police records for drug trafficking, homicides and illegal possession of weapons. Two of them–including the recently arrested man-were described by police as especially dangerous.They relied on local youths for surveillance and assistance before and after the commission of criminal acts.
Between 2013 and 2014, there were several violent incidents which involved the use of guns. In one, a burnt-out car contained the body of an opposing gang member who had been shot in the head.His family singled out the detainee as the alleged culprit. He fled Ceuta to avoid police and in case he was targeted for a revenge attack, say officers.
Police say he moved to Granada, never staying long at the same address and using different identities.
While on the run the man was found guilty of murder and conspiracy in his absence. He will now goto jail, say police.