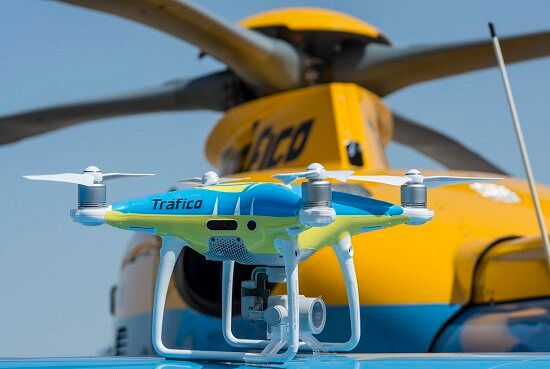 FROM today (August 1) the DGT traffic department is going to start using drones to fine drivers.
The pilotless aircraft will be used particularly at accident blackspots and to spot offences where 'vulnerable' road users such as cyclists, pedestrians and motorbike riders are put at risk.
Drone operators will also be on the lookout for people distracted from the roads by their use of devices like mobile phones.
The drones will also be used to monitor and support ground-based police during special events where heavy traffic is expected.
They are seen as a complementary technology to already widely used helicopters but costing much less to operate.
Traffic offenders may be pulled over by police at the time, or a notice may be sent through the post, complete with photographic evidence.
At the moment the DGT has not said whether they will be used to fine drivers for speeding, something the department's 12 Pegasus helicopters already do.
According to the DGT, there are 11 drones in the fleet. Three of them have been certified by the Spanish Metrology Centre (CEM) and are the ones that will initially be used for reporting offending drivers.
The other eight will continue to be used for traffic regulation and management.
In addition, a bidding process is underway for the acquisition of another 20 units which, once supplied and certified, will be incorporated into the work of traffic surveillance and control.
The DGT began to use drones last April with three operating on the A1 motorway in the province of Madrid and the A6 at Tordesillas in Valladolid.
With these devices the DGT can monitor 160,000 kilometres of roads in the national network.
Each drone has an operating altitude of up to 120 metres. They are equipped with high-definition cameras that have a range of vision of seven kilometres but can only stay in the air for 20 minutes.