Toyota's RAV4 was a pioneer of the Sports Utility Vehicle when it made its debut in 1994. Today, it is an established global best-seller and the latest version – much larger than the original – still provides the versatility and practicality that made it famous.
The latest RAV4 is a full hybrid – it can run on electric power alone. It has a 2.5-litre petrol engine mated to an electric motor and with electric CVT auto transmission. This combination gives a nippy 0-100 kph time of 8.4 seconds, top speed of 180 kph (112 mph) and low emissions, just 105 g/km.
And there is a bonus – impressive average fuel economy of 17.9 kpl (50.2 mpg). While often it is hard to achieve such official economy figures in real-world driving, I did get very close – 17.3 kpl (48.9 mpg) in a mix of city, rural and motorway driving.
The car is smooth, quiet and refined, with nicely-weighted steering, composed cornering and a comfortable ride. There are selectable driving modes and I found the best setting is Normal, which allows the car's sensors to switch between petrol and electric power to achieve optimum performance.
When in city traffic you can push the EV button and run on electric power only. It is a simple and very effective full hybrid system.
The RAV4 Hybrid is priced from €33,648 (£29,940) for a well-equipped entry version though my upper-range Excel, laden with much extra kit, is priced at €37,765 (£33,615).
Equipment includes auto-levelling headlights, powered tailgate, dual-zone climate control, rear view camera, touch-screen infotainment centre with digital radio, sat-nav and connectivity features, roof rails and rear privacy glass.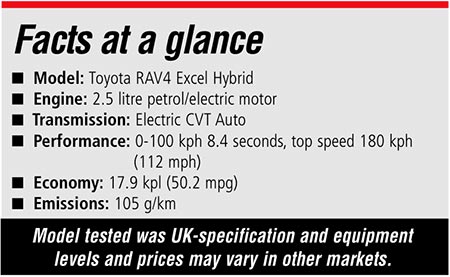 Safety kit includes pre-collision and pedestrian detection system, adaptive cruise control, lane-keep assist, road sign recognition and hill-start assist.
Cabin space is ample for five adults and the large boot space of 580 litres can be expanded to 1,690 litres by folding the rear seats.
While the RAV4 is not the cheapest in the large-SUV class, most of its rivals are not available in full hybrid form, nor do they have Toyota's five-year warranty or such strong second-hand values.