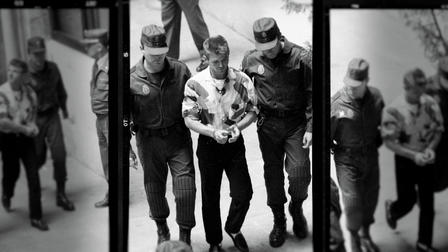 NETFLIX is to release a brand new series, detailing the events leading up to the infamous abduction, rape and murder of three teenage girls which sent shockwaves through Spain in the early nineties.
The new five part series, Alcasser Murders, chronicles one of the most intriguing and most brutal crimes in Spanish history.
In November 1992, Miriam Garcia Iborra, 14, Antonia Gomez Rodriguez, 15, and Desiree Hernandez Folch, 14, disappeared on their way to a school party held at a local nightclub Coolor. The club was in Piccasent close to where they lived in Alcasser in the Valencian province.
Having no way to get to the party the three girls decided to hitchhike to the club. They were spotted getting into a car with two males and this was the last time they would be seen alive.
Their bodies were discovered by two beekeepers two months later buried in the ground in a rural area in La Romana, Catadau.
They had been kidnapped, raped, tortured, mutilated and killed. Documents were found at the scene that led authorities to Enrique Angles who originally confessed to the crime, however he was deemed to have learning difficulties and the police then turned their attention to his brother Antonio. He was described as a very violent man by his own family.
It was later determined that Antonio and a friend, Miguel Ricart were the men responsible. Miguel would be sentenced to 170 years in prison however Antonio has never been found and is still on Spain's most wanted list.
The horrific story grabbed the nation's attention and the new series Alcasser Murders details the entire case with interviews with friends, families and journalists involved in the case.
The documentary is released tomorrow (Friday, June 21)