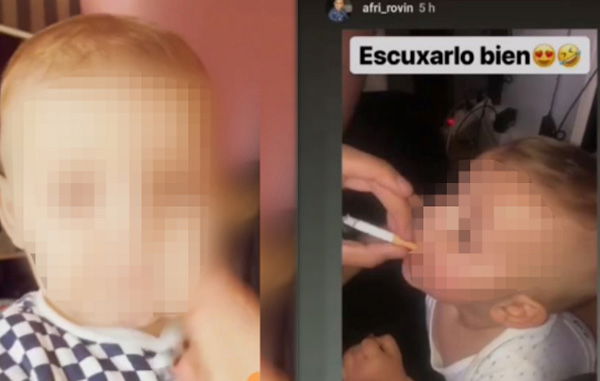 A WOMAN who caused outrage in Spain by posting a video of her 11-month-old baby smoking a cigarette has apologised.
But another video has now emerged of her slapping the child and making it cry, accompanied by the words "Peddler, scoundrel, do you want to smoke oh?"
The first video she posted on her Instagram account went viral. It showed the baby's father putting a cigarette to her mouth amongst laughter.
Apparently, the baby "asked" for a cigarette and was angry at an initial refusal, so the father eventually agreed.
The video provoked nationwide fury and hit the Spanish media headlines. The mother, from Madrid, took down the video and posted: "Hi, I'm XXXXX's mum. First of all, I want to apologise for uploading a video of my baby with a cigarette in his mouth. It's not funny at all and I'm very sorry.
"I thought that putting it in his mouth would make him sick. I was wrong, and I'm super-repentant and frightened by everything that's going on.