MANY of Spain's most popular Costas and holiday island hotspots are on orange severe weather alerts today (Friday) and tomorrow.
Impresionante Granizada en Sevilla. Así, quien se bebe una @Cruzcampo ? #sevilla #granizo #lluvia pic.twitter.com/g2R4nNB9NB

— Upside-Down (@evramirez87) April 18, 2019
Más de 300 incidencias entre Policía Local, #Bomberos y #ProtecciónCivil del @Ayto_Sevilla
Gran trabajo de todos los servicios operativos y de emergencias.
Aún se está actuando en algunas zonas afectadas
Ampliaremos
+ https://t.co/3kLeAciuq8 pic.twitter.com/497XidvvpD

— Emergencias Sevilla (@EmergenciasSev) April 18, 2019



🔴 @E112Andalucia gestiona más de un centenar de incidencias relacionadas con la lluvia ☔️⛈️en la provincia de #Sevilla entre las 16 y las 18 horas ⌚️

▶️ la mayoría de los avisos han sido anegaciones de viviendas, sótanos, garajes y balsas de agua en el viario pic.twitter.com/8rc9xiEnty




— Emergencias 112 (@E112Andalucia) April 18, 2019
The national state weather agency, AEMET, is forecasting some of the worst weather with hit the Brit-favourite resort of Benidorm on the Costa Blanca, and the party islands of Ibiza and Mallorca in the Balearics.
Yesterday in Andalucia the emergency services responded to more than 100 rain-related incidents, mainly flooding, in a two-hour period during the afternoon in Sevilla that saw 50 roads closed. Hailstorms also pounded many areas.
Meanwhile the Costa del Sol didn't quite live up to its name either and one happy man was filmed under a giant parasol singing in the rain.
The latest upgraded warnings for torrential rain, thunderstorms, strong winds and high coastal waters come the day after rain forced the cancellation many of the traditional huge Spanish Semana Santa parades yesterday.
…Llega la calma
Se normaliza el #JuevesSanto de cara a la #MadrugáSevilla en #SSantaSevilla19#QuintaAngustia @hdad_elValle y @Hdad_Pasion abren esta Jornada.
Gracias por tu colaboración durante esta tarde atípica
Sigue fuentes oficiales. #StopBulos#Seguridad #AytoSevilla pic.twitter.com/O772zZRO1A

— Emergencias Sevilla (@EmergenciasSev) April 18, 2019
«La lluvia en Sevilla es una maravilla» o «The rain in Spain stays mainly in the plain». ???? pic.twitter.com/mUbP63won9

— marilo rivera (@marilo_rivera_) April 18, 2019
La lluvia en Sevilla es una maravilla.
Alberto uno di noi 😂 pic.twitter.com/l2V5gDquxA

— Juanma López (@Juanma9LP) April 18, 2019
Ante la presencia de precipitaciones en forma de #granizo en #Sevilla se recomienda controlar los bajantes y alcantarillas.
En caso de emergencias ☎️112
Cc @E112Andalucia pic.twitter.com/rrFt0N9g1F

— Emergencias Sevilla (@EmergenciasSev) April 18, 2019
These are the following areas are under severe weather alerts for the next two days:
GOOD FRIDAY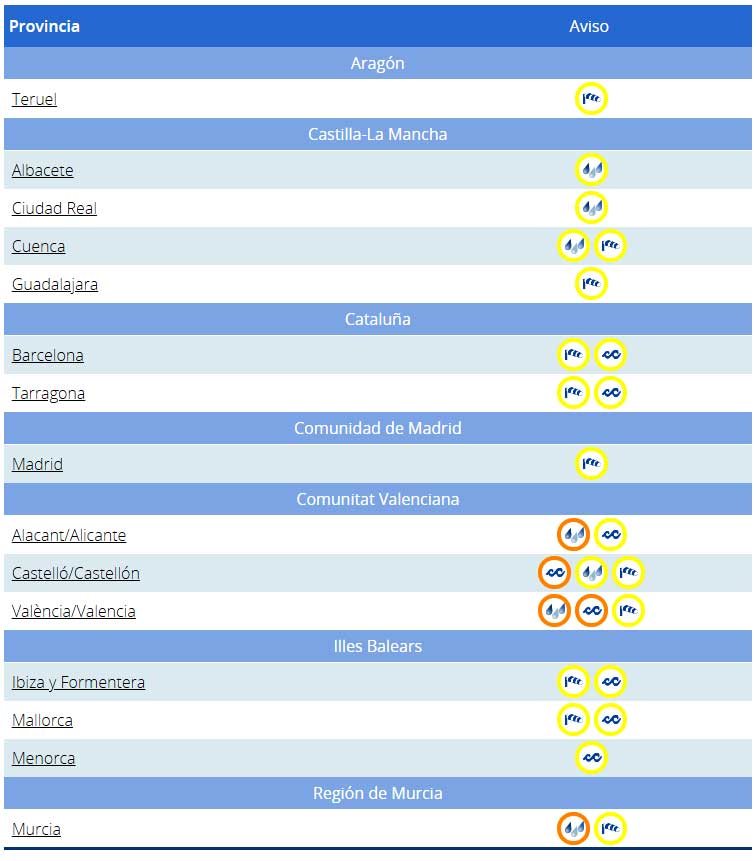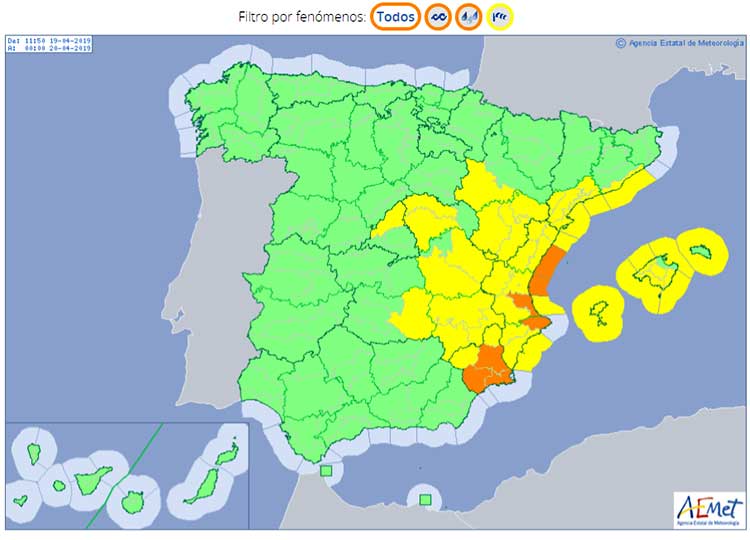 EASTER SATURDAY