ALL of a budget airline's flights have been cancelled from today (Thursday) wrecking the travel plans of hundreds of thousands of passengers including in the UK and Spain.
At 8.15am UK time Wow Air, based in Reykjavik, Iceland announced: "End of Operation of Wow Air.
A statement read: "Wow Air has ceased operation. All flights have been cancelled.
"Passengers are advised to check available flights with other airlines.
"Some airlines may offer flights at a reduced rate, so-called rescue fares, in light of the circumstances. Information on those airlines will be published, when it becomes available.
"Passengers whose ticket was paid with a credit card are advised to contact their credit card company to check whether a refund of the ticket cost will be issued.
"Passengers who bought their ticket from a European travel agent (within the European Economic Area) as a part of a package tour (a package which includes flights and accommodation or other services) are protected by the Package Travel Directive. Those passengers are advised to contact their travel agent to arrange an alternative flight.
"Passengers who may have bought travel protection, or those passengers whose credit card terms may include such protection, may be entitled to claim compensation and assistance due to delays or travel disruption. However, such compensation is often limited.
"In case of a bankruptcy, claims should be filed to the administrator/liquidator."
The Icelandic airline was heavily in debt and has been seeking investors for months but talks have recently broken down.
On March 25 2019, the day after talks with Icelandair ceased, several WOW air flights were cancelled, fueling speculation as to the airline's fate. The airline attributed the cancellations to a technical failure and its knock-on effects, although two planes were immobilised after being repossessed by the lessor.
As of March 2019, WOW air operated services to a total of 20 year round and six seasonal destinations in Europe, the US, Canada, and the Middle East from its base at Keflavík International Airport.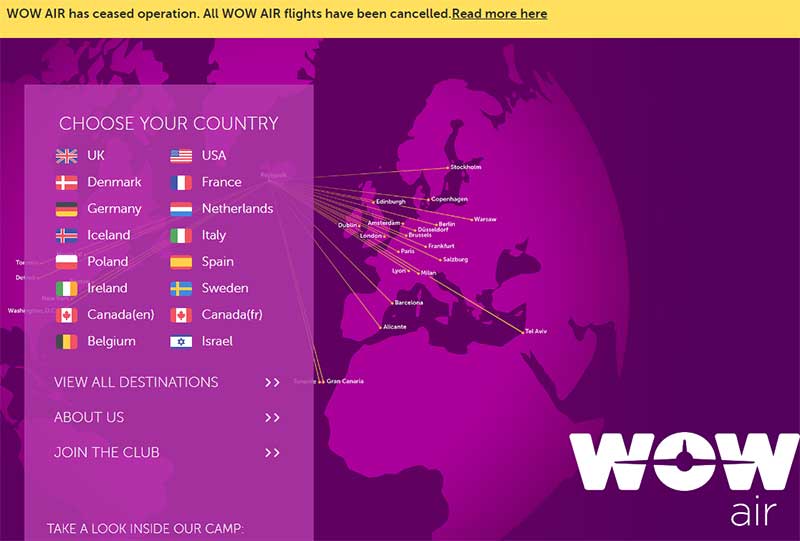 Icelandair runs many similar routes to destinations across the world, for more information click here:
https://www.icelandair.com/flights/